Early detection of human cases vital
By Zhang Feng (China Daily)
Updated: 2005-11-18 06:09
China needs an aggressive surveillance system to detect human cases of the bird flu so that treatment is provided as early as possible especially in areas where outbreaks have been reported in poultry, the World Health Organization (WHO) said yesterday.
Such a system would make it easier to test a large pool of possible cases and then narrow them down, Roy Wadia, spokesman for the WHO China Office, said.
"We need it because experience shows that bird flu needs to be treated in its very early stages before the infection begins to ravage the patient," Wadia told China Daily.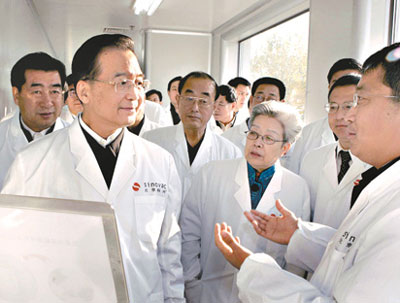 Premier Wen Jiabao and other State leaders yesterday visit the company that produced a vaccine for human infections of bird flu. "We conquered the SARS epidemic in 2003. We will surely conquer bird flu, too," said Wen. [Xinhua]
On Wednesday, China reported its first two confirmed human cases of bird flu, a boy in Central China's Hunan Province, who has recovered, and a woman in East China's Anhui Province, who died.
The boy's 12-year-old sister, who died on October 17, could not be classified as a human case because early sampling was not sufficient for adequate testing.
There is no "cure" for bird flu in humans, but early detection and treatment with anti-viral drugs, among other measures, are vital, Wadia said.
The WHO is calling for heightened surveillance also because symptoms in the initial stages of human infections are so similar to regular flu "that it's often difficult to diagnose unless you know the patient's history and background," Wadia noted. He praised China for being very aggressive in containing bird flu in poultry over the past year and more.
The WHO has received detailed information about the Hunan situation and the Anhui woman, he said.
"We are happy to support China if it requests our presence in other places," Wadia said.
The places Wadia mentioned include Anhui and Northeast China's Liaoning Province where several suspected human cases have been reported since earlier this month.
In Beijing, Henk Bekedam, the WHO representative in China, said yesterday that there was no evidence of human-to-human transmission in the two reported cases.
"If there were something like that, we would expect more people to be dying of very severe pneumonia," he was quoted by local media as saying.
Meanwhile, the Ministry of Health yesterday issued treatment guidelines for human cases and provided information on related issues.
While people are not easily infected, children under 13 years old are more susceptible and form a disproportionately high percentage of cases worldwide; and are more difficult to treat.
High-risk groups include those involved in breeding, marketing and disposing of poultry as well as laboratory researchers who come into contact with the virus.
The virus can enter the human body through inhalation, close contact with infected poultry or water polluted by the virus.
The incubation period from infection to symptoms usually high fever and breathing difficulties is one to three days.
An expert committee is being set up to review the treatment of the Hunan boy who recovered from his illness.
The State Administration of TCM, or traditional Chinese medicine, yesterday started research projects on developing medicines and treatment methods.
Also, the Ministry of Agriculture announced an emergency scheme yesterday to tackle human infections under which local governments would receive help in tracing the source of the virus and contain its spread.
(China Daily 11/18/2005 page1)