Japan struggles to rid China of WWII weapons
(AP)
Updated: 2005-11-18 00:51
Japan is pushing ahead with a plan to clear China of chemical weapons left behind by its troops after World War Two, but it may have trouble meeting a 2007 deadline, a Japanese government official said on Thursday.

Scores of people in China have been injured by dumped poison gas shells in recent years, and the weapons are one of a range of war-related issues fuelling Chinese resentment of Japan.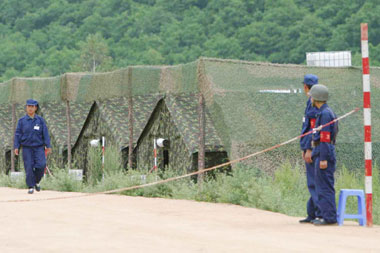 Security officers stand on guard at the camp of an expert team from Japan disposing chemcial weapons left over in Dunhua, northeast China's Jilin Province at the end of the World War II in this August 2, 2004 photo. [newsphoto]

"We are doing everything in our power, but unfortunately that is all we can say at the moment," Akira Takamatsu, director-general of the government's Abandoned Chemical Weapons Office, told reporters when asked whether the deadline would be met.

Japan agreed under the 1997 Chemical Weapons Convention to dispose of the weapons by the end of March 2007.

China has estimated there may be as many as 2 million weapons to be dealt with, but Japan says there are probably 300,000 to 400,000 weapons buried at Haerbaling in Jilin province, northeast China, while 37,000 have been retrieved elsewhere in the country.

Tokyo has no current estimate of total numbers, but officials say Japan faces a mammoth task.

Disposal teams are digging up and classifying the weapons, which could explode or leak after being left to rust for 60 years. Japan invaded and occupied parts of China from 1931 to 1945.

The two governments are in discussions about building a disposal facility at Haerbaling, where the contents of the weapons -- chemicals such as mustard gas and tear gas -- could be disposed of safely.

In one of the most serious incidents, a toxic leak killed one man and injured 43 in August 2003 after five canisters of mustard gas were unearthed at a construction site in the northeastern province of Heilongjiang. Japan has agreed to pay 300 million yen in compensation.

China has repeatedly called on Japan to deal with the weapons, and Tokyo officials said there might be a mixed reaction if Japan failed to meet the 2007 deadline.

"It depends whether you are talking about the government or the Chinese people," Takamatsu said. "The government, at least those involved in this project, have a good understanding of what we are doing. But the Chinese people get very upset when an accident occurs."

Relations between Japan and China, long chilly, worsened this year, partly because of Japanese Prime Minister Junichiro Koizumi's return to Tokyo's Yasukuni shrine, which critics see as a symbol of Japan's past militarism because it honors convicted war criminals along with war dead.

Koizumi heads to a meeting of Pacific Rim leaders in South Korea on Friday, but will not hold a bilateral meeting there with Chinese President Hu Jintao.