US, China make progress in textile talks
(AP)
Updated: 2005-11-03 09:32
WASHINGTON - The Bush administration on Wednesday reported progress in talks this week with China on an agreement to limit the amount of Chinese clothing and textile products coming into the US.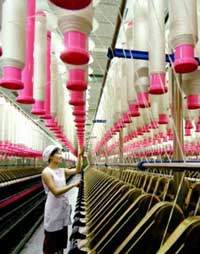 A woman works on a production line at a textile factory in Huaibei, in east China's Anhui province in this September 26, 2005 file photo. The US said substantial progress was made in the latest and secret round of talks on textile issues with China in Washington from October 31 to November 1, 2005. [newsphoto]

The negotiations in Washington from Sunday through Tuesday produced "substantial progress on a large number of issues," David Spooner, the administration's special textile negotiator said in a statement. "We look forward to meeting again soon."

In contrast, after the previous negotiating session in Beijing, the US side expressed disappointment at a failure to narrow differences.

The latest round, the fifth since August, was held without any advance public notice.

US textile industry officials said Wednesday they had not received any briefings on this week's talks; some viewed the secrecy as a hopeful sign the two sides might be nearing a deal.

"From my experience in Washington, the quieter things are, that means progress is being made or they are close to a resolution," said Lloyd Wood, a spokesman for the American Manufacturing Trade Action Coalition.

Washington and Beijing are trying for a comprehensive agreement to impose limits on Chinese imports in all categories of US-made clothing and textiles that have been disrupted by a surge in Chinese imports since global quotas were lifted on Jan. 1.

The US industry contends the Chinese import surge has cost thousands of US jobs and forced 19 textile plants to close just since the first of this year.

American companies have petitioned the administration to reimpose quotas on a case-by-case basis covering individual categories of clothing. But such "safeguard" quotas must be renewed each year.