China, Viet Nam to jointly explore oil, gas
By Jiao Xiaoyang and Wang Ying (China Daily)
Updated: 2005-11-02 05:41
HANOI: Visiting President Hu Jintao yesterday became the first foreign leader to address Viet Nam's parliament, as he called for closer links between Beijing and Hanoi.
Hu said the two neighbours are both at a "crucial stage" of reform and development, a stage that demands more co-operation and mutual trust.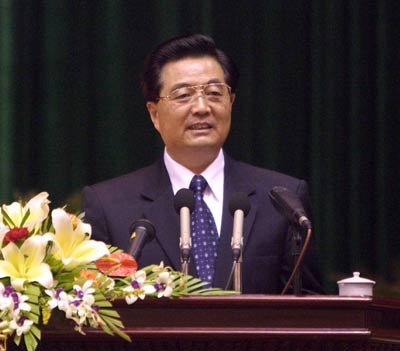 Chinese President Hu Jintao speaks at Viet Nam's parliament in Hanoi November 1, 2005. [Xinhua]
"It is in line with the fundamental interests of the two peoples to enhance our friendship and trust, propel co-operation of mutual benefit, and promote common development," Hu told the National Assembly.
Hu said China-Viet Nam relations have entered a new era of "all-round friendship and co-operation," and reiterated China's pursuit of peace, mutual benefit and dialogue over divergences in diplomacy with neighbouring countries.
On China's domestic front, Hu told the 500 people present that the country had scored an average 9.4-per-cent gross domestic product (GDP) growth in the past 26 years, and the GDP is expected to quadruple to US$4 trillion by 2020.
Do Gia Thang, a Vietnamese official from the government's bill drafting committee, said he was deeply impressed by China's development. "China's economy has achieved great success. There is a lot we could learn from China," Do told China Daily.
"It is natural for Vietnamese to think about learning from China, given our similar social systems and close cultural bonds that date back to centuries ago."
Before the speech, Hu met with Vietnamese Prime Minister Phan Van Khai and National Assembly President Nguyen Van An.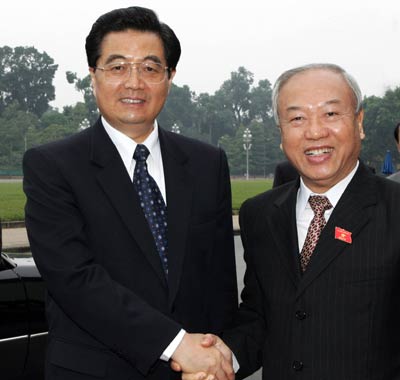 Chinese President Hu Jintao shakes hands with Viet Nam National Assembly President Nguyen Van An in Hanoi November 1, 2005. [Xinhua]
Phan said that the agreements on economic and technological co-operation signed on Monday would usher in breakthroughs in bilateral economic relations.