Bank adviser sees yuan changes, but gradual
(Reuters)
Updated: 2005-10-24 15:42
TOKYO - An influential economist and adviser to China's central bank said on Monday he saw further changes in policy on the yuan currency and that further appreciation was inevitable in the long run, but that any changes would likely be gradual.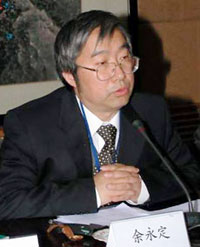 Yu Yongding, director of the Institute of World Economics and Politics of the Chinese Academy of Social Sciences, speaks at a forum in this December 12, 2003 file photo.

"Personally, I think there will be several further changes," Yu Yongding, head of the Institute of World Economics and Politics at the Chinese Academy of Social Sciences, said in a speech in Tokyo.

Yu said such changes could include expanding the trading band for the yuan or setting a new central rate. He also said China's economy was showing signs of cooling down, or stabilising, but that strong growth would likely continue for the next decade.

Yu is the only academic member of the People's Bank of China's monetary policy committee. The panel gives advice on policy but does not set it.

In July, China scrapped its dollar peg and adopted a managed float that in theory allows the yuan to rise or fall by 0.3 percent a day against the dollar.

But Washington believes the yuan remains seriously undervalued given China's ballooning balance-of-payments surplus and wants the currency, also known as the renminbi, to rise faster.