N. Korea nuclear talks to resume Sept 13
(AFP)
Updated: 2005-09-08 16:19
Talks aimed at persuading North Korea to abandon its nuclear weapons programs will resume in Beijing on September 13, China said, despite the main protagonists remaining at loggerheads, AFP reported.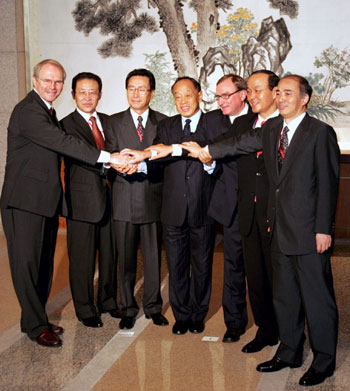 The representatives from the six countries involved in six-party talks on North Korea's nuclear program hold hands as the meeting officially begins in Beijing July 26, 2005. [Reuters]
"The second phase of the fourth round of six-party talks will be held in Beijing on September 13," foreign ministry spokesman Qin Gang said at a briefing, but declined to give an end date.
"The six sides need to jointly make that decision according to the progress of the talks," he said, adding that "the road is complex and full of twists".
"We can't rely on one round to resolve all the issues. But we are not pessimistic as long as the six sides bear in mind the aim of denuclearisation."
The talks between China, the United States, the two Koreas, Russia and Japan were adjourned on August 7 after Washington rejected Pyongyang's demand for its "unconditional right" to use nuclear energy for peaceful purposes.
They were scheduled to resume in the last week of August but North Korea refused to return, citing war games between South Korea and the United States as creating the wrong atmosphere.
Despite the agreement to meet again, few signs have emerged since the fourth round recessed after 13 days of fruitless talks that North Korea or the United States are willing to budge from their entrenched positions.