Six-party talks to resume September 13
(chinadaily.com.cn)
Updated: 2005-09-08 15:24
The fourth round of six-party talks on the North Korea nuclear issue will resume September 13 in Beijing, Chinese Foreign Ministry spokesman Qin Gang said Thrusday.
Following a gap of more than a year, China, the United States, Russia, South Korea, North Korea and Japan met in Beijing July 26 for nearly two weeks before talks broke down on August 7 for a three-week recess and were originally due to resume in the final week of August 29.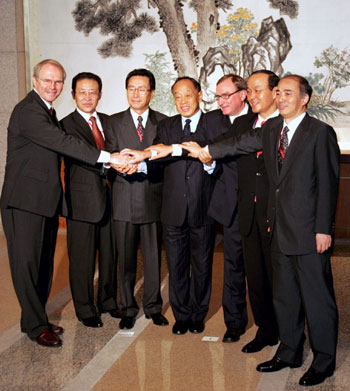 The representatives from the six countries involved in six-party talks on North Korea's nuclear program hold hands as the meeting officially begins in Beijing July 26, 2005. [Reuters]
But North Korea delayed the talks for another two weeks, announcing they would resume at sometime in the week of September 12, citing annual South Korea-US war games for the delay.
The nuclear standoff flared in October 2002 with the United States accusing North Korea of developing a secret uranium-enrichment program in violation of a 1994 arms control pact.
Pyongyang has denied the US charges but declared in February this year that it had already built nuclear bombs.
Since 2003, the six parties have held talks to disarm North Korea in exchange for diplomatic and economic benefits and security guarantees.