EU decision on China's market economy status soon
(Xinhua)
Updated: 2004-03-16 15:02
EU foreign affairs and security chief Javier Solana said Monday in Brussels that the EU will soon make a decision on China's request for full market economy status.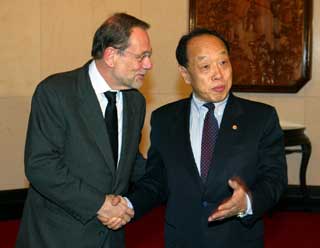 Chinese Foreign Minister Li Zhaoxing (right) meets with EU foreign affairs and security chief Javier Solana in the Diaoyutai State Guesthouse in Beijing on March 16. [newsphoto]

He said discussions are under way between Chinese officials and the European Commission to provide the necessary technical details on which a decision about China's full market economy status will be based.

"An initial response to the Chinese request for market economy status is due within the next few months," he said.

Market economy status is usually used for anti-dumping cases. For example, if the EU grants China full market economy status, the domestic price of a certain goods and relevant cost calculation provided by Chinese enterprises can be applicable in the anti-dumping cases. Otherwise, prices and cost calculation of the same goods in a third country, like Japan and the United States, will be applied in the anti-dumping cases. In the latter case, Chinese enterprises would be in a disadvantageous position when involved in anti-dumping cases.

In the interview with Xinhua before his departure for China, he said fighting terrorism and international organized crime is expected to be among the "key priorities" in talks between the European Union and top Chinese leaders. Solana is now in Beijing and he had talks with the Chinese Foreign Minister Li Zhaoxing Tuesday morning.

During his talks with Li, Solana said the EU and China share a solid and sound
relationship and the top leaders will exchange visits this year. The European Union cherishes ties with China and will enhance strategic cooperation with China in bilateral and multilateral areas.

The EU will stick to the one-China policy and hopes the situation over the Taiwan Straits would maintain stable, said Solana. Chinese Premier Wen Jiabao and State Councilor Tang Jiaxuan were scheduled to meet Solana, who will also address Qinghua University on Wednesday.

Solana said talks with top Chinese leaders in Beijing on March 16-17 will cover an "exceptionally comprehensive" range of issues concerning EU-China relations and international affairs.

He said cooperation in fighting terrorism and international organized crime is among "key priorities" in bilateral cooperation programs.

Solana noted that China is a "key international partner" of the EU and that during his visit he and Chinese leaders will "seek to identify areas where we can cooperate together to further our shared objectives."

"The range of international issues I will discuss with Prime Minister Wen Jiabao, State Councillor Tang Jiaxuan and Foreign Minister Li Zhaoxing this week is exceptionally comprehensive and is evidence of the increasing depth of our relationship," he said.

As for EU-China cooperation in the field of foreign and security policy, Solana said it is vital to increase understanding of each other's positions and policies and to inform each other of relevant policy-making.

"China and EU member states already work together closely on these issues in a number of international for a, foremost amongst them the United Nations. Chinese and European experts regularly meet together bilaterally and in international fora to discuss the most appropriate means of combating these challenges," he added.

On the Seventh EU-China summit expected to be held in the second half of this year, he said Chinese and EU officials are already discussing possible concrete deliverables for the summit, noting that he was "confident that the summit will mark a further step forward in the level of EU-China cooperation."

As for China's role in the EU-sponsored Galileo positioning project similar to the GPS system of the United States, Solana said China is a "full partner" in the project, and "is now able to make a full contribution to the further development of this undertaking."

Turning to the six-party talks on the nuclear issue of the Democratic People's Republic of Korea (DPRK) held in Beijing recently, Solana said he warmly welcomes the Chinese leadership in seeking a resolution to the Korean Peninsula nuclear issue and appreciates the "dedication of the Chinese negotiators."

The EU continues to "monitor the situation closely" and to provide "all possible support for this process," Solana said.

On the tourism pact between China and the EU signed last year, he said the pact is a "milestone" agreement, "which will make a tremendous contribution in people-to-people contacts, not only in tourism but also in EU-China business contacts."

Although Solana is not in charge of EU economic affairs, he said the EU will become China's largest trading partner, ahead of the US and Japan, when trade with the 10 new members who join the EU on 1 May this year is added to the trade between China and the 15 current EU members.