Election cast shadow on Canada aboriginal goals
(Reuters)
Updated: 2005-11-25 10:07
PESSIMISTS AND CYNICS
"I know there are pessimists and cynics who think this process will fail. I disagree," said Phil Fontaine, grand chief of the Assembly of First Nations, the country's leading native Indian organization, and frequent critic of the government's existing policies for natives.
Polls indicate the Liberals could be returned to power with another minority government but Fontaine played down concerns that a win by the opposition Conservatives would endanger agreements reached in Kelowna.
"I think it will be difficult for any government to retreat from the commitments that are made here," Fontaine told reporters.
The meeting also included representatives of Canada's Metis and Inuit people.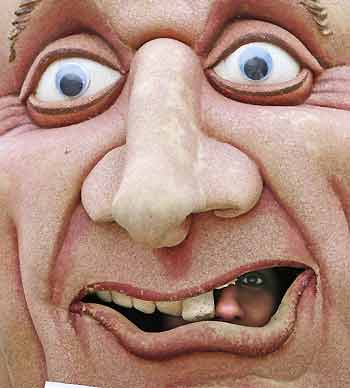 A protestor looks out from the mouth of giant effigy of Canadian Prime Minister Paul Martin during a demonstration in Kelowna, British Columbia November 24, 2005. About 50 Correctional Officers on strike protested outside the site where Martin and the provincial premiers were meeting with native leaders on Thursday.[Reuters]
Census figures show about 1.3 million Canadians, or about 4.4 percent of the population, have some aboriginal ancestry. But an estimated 40 percent of the native population lives in poverty, compared with 15.7 percent for the country as a whole.
"If you stand back from all the politics for a minute, I don't think that any Canadian can accept the fact that there is an enormous gap in health care, an enormous gap in education ... in economic opportunities for aboriginal Canadians," Campbell said.
But debate over health-care funding has long divided Ottawa from the provinces, who worry the federal government will either make them pick up too much of the cost, or try to dictate how they spend the funds.
Provincial leaders usually use meetings with the prime minister to take jabs at Ottawa but were muted in their criticism with aboriginal leaders sharing the stage.
"We're not the only kids on the block here," said Ontario Premier Dalton McGuinty.
There are splits within in the aboriginal community about the meeting. About three dozen protesters outside the Kelowna meeting complained that Indians living in urban areas would be ignored by the new programs.