Election cast shadow on Canada aboriginal goals
(Reuters)
Updated: 2005-11-25 10:07
Canadian government and aboriginal leaders denied on Thursday the looming federal election would scuttle their lofty hopes of launching an attack on the dire poverty of the country's native people.
Prime Minister Paul Martin, provincial leaders and the heads of major aboriginal groups began a two-day summit in Kelowna, British Columbia, that is expected to see billions of dollars in new funding to address inadequate housing, education and medical services for Canada's native people.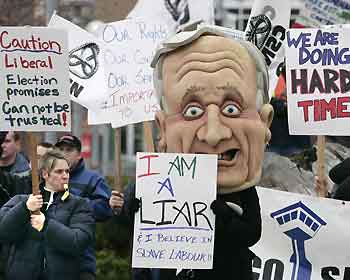 Protestors, one wearing a giant effigy head of Canadian Prime Minister Paul Martin, demonstrate in Kelowna, British Columbia November 24, 2005. About 50 correctional officers on strike protested outside the site where Martin and the provincial premiers were meeting with native leaders.[Reuters]

"We are here today because the descendants of the people who first occupied this land must have an equal opportunity to work for and to enjoy the benefits of our collective prosperity. Today, the majority do not," Martin said at the event's opening ceremony.

Martin said that among the summit's goals was eliminating the gap in high school dropout rates between aboriginal and non-aboriginal students within 10 years and cutting the gap in housing conditions by 80 percent.

But the long-planned meeting has been overshadowed by political developments in Ottawa, where opposition parties are poised to bring down Martin's minority Liberal government on Monday and force a January election.

"I think this is something that transcends that politics," said British Columbia Premier Gordon Campbell, a key organizer of the summit. "Frankly, it's easy to talk about the politics. It's difficult to talk about the solutions."

The Kelowna talks, which began with ceremonial native song and drumming, will debate a 10-year program backed by aboriginal leaders and Ottawa, It reportedly will include up to C$4 billion ($3.4 billion) in new federal funding, with native groups taking a bigger role in running the programs.