Should naked human body be used as an art symbol?
(Beijing Review)
Updated: 2005-07-20 11:26
Don't Criticize What You Don't Know
Xu Xiao (freelance writer): What is performance art? In essence, I think, performance art can be defined as a relatively free expression of the performer through body activities or actions.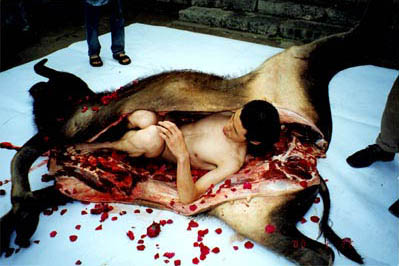 A nude man crawls off the belly of a dead ox at the grass ground of a Nanjing Park where performers stage a show of the art of behavior. [baidu]


In terms of its concept, the boundary of performance art is not very clear. It is mainly created according to the performer's idea, and doesn't always feature nudity.

Performance art came into being in the West and has become a relatively mature form of art after many years of development. But in China, the development of performance art is just at the embryonic stage. By saying that I mean, whoever it is, the performer him/herself or the audience, they do not seem to know what they are doing or what they are watching.

All kinds of strange performance art that emerged in China in recent years are hard to be accepted by its citizens, as they incline to going to extreme and seem completely unreasonable. Particularly when some of the performance art creators tend to express themselves mainly in extreme ways like causing bodily harm, drawing blood. This challenges the extremes of humanity and morality.

I am saying that in present China, few people know what art is, let alone performance art. But now more people are commenting on things that we do not really have any knowledge of. My point is if we do not really know what performance art is, the best thing is to tolerate it.





| | |
| --- | --- |
| | |
| Jude Law apologizes for affair | |

| | |
| --- | --- |
| | |
| Sandra Bullock reportedly weds Mechanic | |

| | |
| --- | --- |
| | |
| Miss Intercontinental contest in Hefei | |
Today's Top News
Top Life News

Typhoon hits coastal areas, one million evacuated




Pentagon: China's military strengthening




China to keep yuan basically stable this year




Bush: Sino-US relations 'important, complex'




Haier, partners drop bid to buy Maytag




Registered jobless rate unchanged at 4.2%