Should naked human body be used as an art symbol?
(Beijing Review)
Updated: 2005-07-20 11:26
At four o' clock on April 13, 41 male and female students from the Chengdu Academy of Fine Arts stripped naked and arranged their bodies into the @ shape.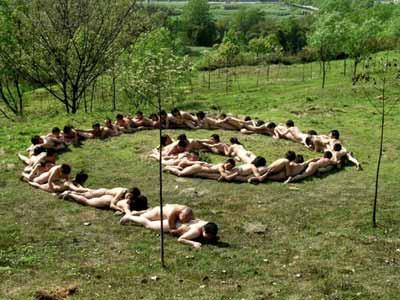 A total of 41 male and female students from the Chengdu Academy of Fine Arts arranged their naked bodies into a @ shape April 13, 2005. The moved asserted to be the art of behavior stirs hot debate among the public. [baidu]


Known as performance art, the @41 project in south Chengdu, Sichuan Province has raised more than a few eyebrows.

Once the students had moved into the required shape, they collapsed in a domino effect, whilst all the time retaining the @ shape.

Performance art incorporates a wide variety of activities and actions. While the artist's own body is often the focus in performance art, this art form often also uses sound, light, costumes, props and other people in their work. Performance art pieces can be spontaneous or rehearsed, and of short or long duration.

China's performance art was imported from the West in 1985. At that time, young artists experimented with expression of their resistance to mental oppression and their desire for mental emancipation by way of going against society and rebelling against conventional art forms. In some quarters this behavior was seen as bordering on masochism.

In a multi-cultural society, performance art began to be noticed with increasing frequency.

However, when life is displayed in the form of art, many feel unease about it, especially when performances push the envelope and challenge the perceptions of how art integrates with daily life.

Performance art in China has always been a bone of contention from the day it was first practiced. When the Chongqing Morning Post released the news of the @41project, it sparked lively debate across the country.





| | |
| --- | --- |
| | |
| Jude Law apologizes for affair | |

| | |
| --- | --- |
| | |
| Sandra Bullock reportedly weds Mechanic | |

| | |
| --- | --- |
| | |
| Miss Intercontinental contest in Hefei | |
Today's Top News
Top Life News

Typhoon hits coastal areas, one million evacuated




Pentagon: China's military strengthening




China to keep yuan basically stable this year




Bush: Sino-US relations 'important, complex'




Haier, partners drop bid to buy Maytag




Registered jobless rate unchanged at 4.2%