Critics see security threat in Unocal bid
(Agencies/chinadaily.com.cn)
Updated: 2005-07-14 10:03
The House last month backed a spending measure that would block CFIUS from approving CNOOC's bid but its support in the Senate is uncertain. Senate Appropriations Committee Chairman Thad Cochran told Reuters no legislation was necessary "at this point."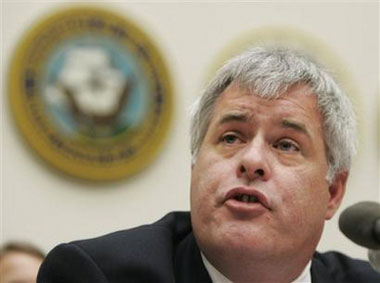 Jerry Taylor, director of Natural Resources Studies, CATO Institute, testifies before the House Armed Services Committee on Capitol Hill, during a hearing on national security implications of the possible merger of the China National Offshore Oil Corporation with Unocal Corporation July 13, 2005, in Washington. [AP]

"If the (Bush) administration determines that the acquisition would pose a threat to our national security, then we can take whatever action is necessary to protect our interests," said the Republican from Mississippi.

James Woolsey, a former CIA director, said at the hearting he categorically opposed to the takeover bid by a Chinese firm.

The only witness called who saw no harm in the proposed CNOOC-UNOCAL linkup was Jerry Taylor, director of natural resource studies at the free-market-oriented CATO Institute, who argued the deal could never give China an "oil weapon."

He said Unocal production accounted for a "small and trivial" 0.23 percent of world oil output and any oil China derived from Unocal would displace oil it now buys elsewhere. China would have to occupy the entire Middle East in order to have a significant impact on oil flows and prices, Taylor said.

"The more China invests here, the less likely that we will be running into conflict," said Taylor. "America has enough enemies abroad without conjuring new ones out of thin air."

But Taylor was attacked by other witnesses and by lawmakers, who said he was naive to focus on market logic.

The board of Unocal was to meet Thursday to go over the 18.5-billion-dollar offer from CNOOC, which trumped a bid worth 16 billion dollars from US oil company Chevron. Unocal shareholders will vote on August 10.








| | |
| --- | --- |
| | |
| Special police detachment established in Xi'an | |

| | |
| --- | --- |
| | |
| Panda cubs doing well in Wolong | |

| | |
| --- | --- |
| | |
| Suspect arrested in Taiwan | |
Today's Top News
Top China News

Taiwan's KMT Party to elect new leader Saturday




'No trouble brewing,' beer industry insists




Critics see security threat in Unocal bid




Former bank chief tried on corruption charges




Workplace death toll set to soar in China




No foreign controlling stakes in steel firms