Critics see security threat in Unocal bid
(Agencies/chinadaily.com.cn)
Updated: 2005-07-14 10:03
A Chinese firm's bid to buy U.S. oil producer Unocal is in essence a business, but some critics of the bid claimed it was part of a calculated challenge by China to America's global power.
These critics even claimed the bid, if permitted, will damage U.S. interests in Asia.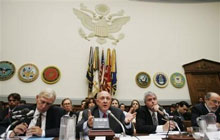 Richard D'Amato, chairman, U.S.- China Economic and Security Review Commission, left to right, James Woolsey, former Director of the Central Intelligence Agency, Jerry Taylor, director of Natural Resources Studies, CATO Institute, and Frank J. Gaffney, Jr., president and CEO of Center for Security Policy, testify before the House Armed Services Committee on Capitol Hill, during a hearing on national security implications of the possible merger of the China National Offshore Oil Corporation with Unocal Corporation July 13, 2005, in Washington. [AP]

"I believe the PRC's aim is inexorably to supplant the United States as the world's premier economic power and, if necessary, to defeat us militarily," said Frank Gaffney, a Pentagon strategist under the late President Ronald Reagan.

Gaffney, a frequent China critic, was one of four people who testified Wednesday, July 13 at a hearing of the U.S. House of Representatives Armed Services Committee, that was dominated by criticism of CNOOC's $18.5 billion bid for Unocal .

Committee chairman Republican Duncan Hunter told the meeting that a successful takeover of Unocal would greatly boost China's leverage over U.S. interests in central Asia.

As an example of where China could deny the United States access to oil sources, Hunter cited investments by Unocal in pipelines running from Caspian Sea oil fields through Azerbaijan, Georgia and Turkey.

"China's purchase of Unocal would dramatically increase its leverage over these countries, and therefore its leverage over U.S. interests in those regions," the California Republican said.

The House Energy and Commerce Committee has scheduled a hearing on CNOOC's bid for July 19. Approval of any CNOOC deal will ultimately be made by the Committee on Foreign Investments in the United States (CFIUS) a multi-agency panel chaired by the U.S. Treasury.

The Wall Street Journal reported that CFIUS has declined to begin an early review of CNOOC's bid for Unocal, preferring to wait until the companies reach a deal.

US President Bush has declined to take a stand on the issue, saying he will await the CFIUS review process.







| | |
| --- | --- |
| | |
| Special police detachment established in Xi'an | |

| | |
| --- | --- |
| | |
| Panda cubs doing well in Wolong | |

| | |
| --- | --- |
| | |
| Suspect arrested in Taiwan | |
Today's Top News
Top China News

Taiwan's KMT Party to elect new leader Saturday




'No trouble brewing,' beer industry insists




Critics see security threat in Unocal bid




Former bank chief tried on corruption charges




Workplace death toll set to soar in China




No foreign controlling stakes in steel firms