CNOOC's bid for Unocal tests US' China ties
(Los Angeles Times)
Updated: 2005-07-12 06:44
"This might reveal the true face of the U.S." toward China, Liu said.
Even before CNOOC lobbed its bid, strains in U.S.-China trade had been building for months. China's soaring textile exports prompted the Bush administration to impose new quotas. Several bills in Congress threaten tariffs on Chinese goods if Beijing doesn't revalue its currency, which critics say is undervalued, giving Chinese exporters an unfair advantage. American industries complain about lax protection of intellectual property rights in China.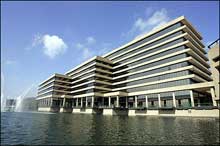 Unocal offices in Sugar Land, Texas. Oil exploration firm Unocal said its shareholders would meet August 10 to decide on takeover offers from US rival Chevron and China National Offshore Oil Company (CNOOC). [AFP]

Some of those issues will be discussed today by top officials from the U.S. and China meeting in Beijing for annual trade talks.

For the Bush administration, the CNOOC matter is particularly difficult. On one hand, the bid is being seen against the backdrop of America's huge trade deficit with China, which is increasingly blamed on allegedly unfair Chinese trade practices. On the other hand, free trade advocates argue that it would be hypocritical for U.S. politicians to derail a deal when there isn't strong evidence that it threatens American security interests.

Some of America's largest corporations, including Exxon Mobil Corp. and Bank of America Corp., have urged politicians not to interfere ¡ª and for no small reason. Bank of America last month agreed to pay $2.5 billion for a 9% stake in one of China's largest state-run banks and has an option to buy much more. Exxon just last week signed a $3.5-billion deal with another Chinese oil company and a Saudi concern to expand a refinery in south China.

And Goldman Sachs is considering an investment in China's largest bank, according to various reports.

"Almost every major company is here and making money or wanting to make money," said Andy Rothman, a China specialist at CLSA Asia-Pacific Markets in Shanghai. "They don't want to spoil this."





| | |
| --- | --- |
| | |
| Special police detachment established in Xi'an | |

| | |
| --- | --- |
| | |
| Panda cubs doing well in Wolong | |

| | |
| --- | --- |
| | |
| Suspect arrested in Taiwan | |
Today's Top News
Top China News

Taiwan's KMT Party to elect new leader Saturday




'No trouble brewing,' beer industry insists




Critics see security threat in Unocal bid




DPRK: Nuke-free peninsula our goal




Workplace death toll set to soar in China




No foreign controlling stakes in steel firms