CNOOC's bid for Unocal tests US' China ties
(Los Angeles Times)
Updated: 2005-07-12 06:44
But the strong U.S. political opposition to state-owned CNOOC Ltd.'s $18.5-billion offer for El Segundo-based Unocal has highlighted the tense commercial relations between the two nations. Members of Congress have railed against the CNOOC proposal as a Beijing-orchestrated grab for valuable oil resources and have threatened to block the deal on the grounds of national security. The Chinese government has warned Washington not to interfere.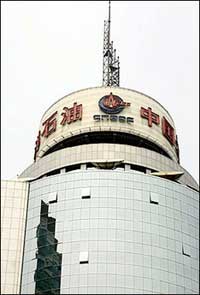 The head-office building of China National Offshore Oil Corporation (CNOOC) is seen in Beijing. CNOOC showed showed keen interest in immediate talks with Unocal over a proposed US$18.5 billion all-cash bid, after rival Chevron allowed Unocal to join the discussions. [AFP]

The standoff has raised fundamental questions about trust and fairness, how the U.S. will approach China's rising economic influence and how Beijing will respond.

If CNOOC's bid is thwarted by Washington, analysts say, it will almost certainly trigger a reaction that could prove costly for American businesses.

The Chinese could cut purchases of U.S. goods, as when Beijing protested an American arms deal with Taiwan by ordering aircraft from Europe's Airbus instead of Boeing Co. The Chinese also could delay approvals of American projects in China, analysts say, or add a few more hoops to the complex procedures for clearing acquisitions by foreigners.

Such moves, though, could also hurt China. If Beijing pulls back from two decades of opening up its markets, it could hamper China's economic development and political reforms. Chinese companies crave not only U.S. cash but the management and technical know-how that investments and joint ventures bring.

"China has come a long way from pure state ownership to gradual private ownership and foreign ownership," said Rupert Li, a partner at Morrison & Foerster's mergers and acquisitions law practice in Hong Kong.

Liu Baocheng, dean of Sino-U.S. studies at the University of International Business and Economics in Beijing, doesn't think the outcome of a single deal such as CNOOC-Unocal will impair long-term relations between the two countries. Still, he sees the American response to CNOOC's bid as a litmus test of their current standing and what may lie ahead as China asserts itself in the international marketplace.





| | |
| --- | --- |
| | |
| Special police detachment established in Xi'an | |

| | |
| --- | --- |
| | |
| Panda cubs doing well in Wolong | |

| | |
| --- | --- |
| | |
| Suspect arrested in Taiwan | |
Today's Top News
Top China News

Taiwan's KMT Party to elect new leader Saturday




'No trouble brewing,' beer industry insists




Critics see security threat in Unocal bid




DPRK: Nuke-free peninsula our goal




Workplace death toll set to soar in China




No foreign controlling stakes in steel firms