US, tribunal disagree on Saddam handoff
(Agencies)
Updated: 2004-05-12 10:15
The head of Iraq's war-crimes tribunal said Tuesday that the United States has pledged to hand over Saddam Hussein and about 100 other suspects to Iraqi authorities before July 1 if Iraq is ready to take them into custody. U.S. officials denied any decision had been reached.
"The coalition will hand them over if we are able to hold them in custody," Salem Chalabi told The Associated Press.
Chalabi said trials would likely begin early next year — again, "if we are ready" — and that judges would receive "files" on the suspects at the end of this year.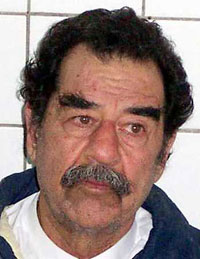 International Red Cross officials visited Saddam Hussein at his secret prison on April 27, 2004. Hussein is seen after his capture Dec. 13. [Reuters]

He earlier told local reporters that Saddam would definitely be handed over before July 1, when Iraq assumes sovereignty from its U.S.-led occupiers, and that trials would begin early next year.

"We will put 100 people ... including Saddam Hussein, on trial," he told the reporters. The suspects, he added, "will be delivered to us by the coalition before the transfer of power."

U.S. officials, who are holding Saddam in an undisclosed location, disputed the report. Secretary of State Colin Powell said he knew nothing about handing over Saddam.

State Department spokesman Richard Boucher also said that he knew of no decision on when or in what time frame the coalition would hand over the ousted Iraqi leader, in U.S. custody since he was captured Dec. 13.

A Defense Department official, speaking on condition of anonymity, said the U.S. intention remains to have Saddam tried by the Iraqi people.

Chalabi said the suspects to be handed over include Ali Hassan al-Majid, known as "Chemical Ali" for his use of chemical weapons against the Kurds in the 1980s. Chalabi has said al-Majid could be one of the first to stand trial.

Tariq Aziz, Saddam's former deputy prime minister, also will be handed over, he said. Aziz is in U.S. custody but is not on the U.S. "most-wanted" list; it was unclear what charges he might face.

Chalabi indicated to AP that Saddam's trial would happen later, rather than earlier. "Our policy is indict junior officials first so that we can build a case against Saddam," he said.

No charges have been filed, but human rights groups have said the tribunal expects to try leaders for genocide, war crimes and crimes against humanity.

The United States estimates that Saddam's regime killed at least 300,000 Iraqis. Some human rights groups say the number is closer to 1 million.

Chalabi said the case against Saddam would be built on cases representative of his abuses while in power.

"The accusations against Saddam include the massacre of Kurds in Halabja, murdering Shiite clerics, and the invasion of Kuwait," he said. "We can't try him for everything. We have to concentrate on some things."

It was not clear who will represent Saddam at trial, but a Jordanian lawyer, Mohammad Rashdan, has said he and 19 other attorneys have been appointed by Saddam's first wife, Sajida Khairallah Telfah.

On Tuesday, he said he would try to prevent the Americans from handing Saddam over to the tribunal.

"We will take a legal action to prevent the United States from handing over the prisoners of war to people like Salem Chalabi," he told AP. "It is possible that we choose a country which respects the law like France, and we might take the same move in Switzerland."

Rashdan said Monday that his defense team was "deeply concerned" about Saddam's welfare in U.S. custody after revelations of U.S. Military Police humiliating and abusing prisoners.

The team of lawyers includes Washington lawyer Curtis Doebbler and French attorney Emmanuel Ludot. Chalabi has said the lead attorney needs to be Iraqi, but that other members of the team can come from other countries.

Chalabi arrived in Kuwait to collect evidence against the suspects. He acknowledged that the prosecutions will be a complicated task.

"The coalition authority has 15 kilometers (10 miles) of documents, and the Iraqis have 30 tons," he said.

Iraqi leaders have said the trials will be televised in the interest of exposing Saddam's atrocities and beginning a process of national healing.

They had earlier predicted Saddam's trial could begin as early as this summer, but the complexities of organizing the trial made that unrealistic. Many Iraqis have said Saddam's verdict — guilty — and sentence — death — are a foregone conclusion, but tribunal officials have insisted the trial will be fair.

Saddam was captured hiding in a hole in the small farming village of Adwar, a short drive from his hometown of Tikrit.
Today's Top News
Top World News

Price drop indicates economy cooling down




Premier: Taiwan legislation to be studied




US$1.5b in contracts signed in London




Olympic venues open to global bids




China's first frozen egg baby born




Exit poll: Arroyo wins Philippine election