Saddam Hussein facts
( 2003-12-14 20:06) (Agencies)
Here is a brief list of facts about former Iraqi leader Saddam Hussein: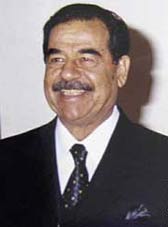 Name: Saddam Hussein al-Tikriti
Birth: April 28, 1937 near Tikrit, Iraq
Parents: The son of peasants. Raised by both his widowed mother and her second husband and Hussein's uncle, Khairallah Talfah, an army officer
Official family: Married to his first cousin, Sajida Khairallah Talfah, since 1963. Children: Two sons, Uday and Qusay (both deceased), and three daughters
Unofficial family: Second wife, Samira al Shahbandar. Her son, Mohammed Saffi, by her first husband was deported from the U.S. in July 2002 for being in the country without a visa
Religion: Sunni Muslim
Education:
al-Karkh secondary school, Baghdad, 1955-?
al-Qasr al-Aini secondary school, Cairo, 1960-1961
University of Cairo Law School, 1962-?
al-Mustansiriyah University, Baghdad, 1963-?
Life events and timeline:
1950s - While a student, Saddam becomes involved in the nationalist movement, which aims to over throw the British controlled Iraqi monarchy.
1956 - Saddam takes part in an unsuccessful coup to overthrow King Faisal II and Prime Minister Nuri as-Said.
1957 - Saddam formally joins the Baath Socialist Party.
July 14, 1958 - King Faisal is killed in a coup led by Abdul Karim Kassem.
October 1959 - Saddam and others attack the motorcade of Abdul Karim Kassem. The assassination attempt fails and most of the attackers are killed. Saddam escapes and flees to Syria. Egyptian President Gamal Abdel Nasser hears of Saddam's exploits and arranges for him to travel to Cairo.
February 8, 1963 - Kassem is overthrown and executed. The Baath Party assumes control of the government. Saddam returns from Cairo. The new Baath government is overthrown before the end of the year.
November 1964 - Saddam is arrested in Syria and sent to prison.
1967- Saddam escapes from prison.
July 17, 1968 - In a bloodless coup, Major General Ahmed Hassan al-Bakr of the Baath party becomes Iraq's new president. Saddam becomes secretary and acting deputy chairman of the Revolutionary Command Council.
February 1972 - Saddam visits Moscow.
October 1973 - Iraq fights against Israel in the Yom Kippur war.
1973 - Saddam is given the rank of lieutenant general.
March 6, 1975 - Saddam and Shah Mohammed Riza Pahlevi of Iran sign a treaty. Iraq gives up claims to the Shatt-al-Arab waterway, while Iran agrees to end its support of the independence seeking Kurds.
1976 - Saddam is given the rank of general.
October 1978 - At the Shah's insistence, Saddam expels Ayatollah Ruholla Khomeini from Iraq, where he has been in exile for 13 years.
February 1979 - The Ayatollah returns to Iran to lead the country, after the ouster of the Shah in January.
July 16, 1979 - Saddam Hussein takes over as president of Iraq.
1979 - In response to the Ayatollah's call for the overthrow of the Baathist regime, comprised mostly of Sunni Muslims, Saddam expels 40,000 Shiite Muslims. Saddam also orders the execution of Ayatollah Mohammed al-Bakr Sadr, an ally of Ayatollah Khomeini.
September 22, 1980 - Iraq launches an air attack against Iran, beginning the Persian Gulf War. In 1984 and 1986 Iraq is accused of using mustard gas and other chemical weapons against Iran. The war ends in a stalemate in 1988.
March 16, 1988 - Iraq uses poison gas against the Kurds in Halabja in Northern Iraq.
August 2, 1990 - Iraq invades Kuwait.
January 17, 1991 - Operation Desert Storm begins.
February 28, 1991 - A ceasefire in the Gulf War takes effect.
August 8, 1995 - Saddam's two oldest daughters, Raghad and Rana, along with their husbands Lt. General Hussein Kamel Hassan al-Majid and Lt. Colonel Saddam Kamel Hassan al-Majid, defect to Jordan. Hussein Kamel had headed Iraq's nuclear, chemical and biological weapons program since 1987. Saddam Kamel had headed the presidential security forces.
October 15, 1995 - Saddam is reelected president.
February 23, 1996 - Saddam's sons-in-law, Lt. General Hussein Kamel Hassan al-Majid and Lt. Colonel Saddam Kamel Hassan al-Majid, are killed in a shootout, three days after returning to Iraq.
December 12, 1996 - Uday Hussein, Saddam's eldest son and possible successor, is shot and seriously wounded in an assassination attempt.
December 16, 1998 - Great Britain and the United States launch air strikes against Iraq. The attack, called Operation Desert Fox, is in response to Iraq's refusal to cooperate with U.N. weapons inspectors.
March 27, 2000 - Uday Hussein is elected to the National Assembly.
August 2000 - Baghdad Airport reopens, but only for humanitarian flights. Domestic air travel resumes in October.
September 30, 2000 - Iran and Iraq hold talks in Venezuela. They reaffirm their 1975 agreement, which had been in abeyance since 1980.
May 2001 - Qusay Hussein, Saddam's younger son, is elected to the leadership of the Baath Party.
September 16, 2002 - Facing the threat of U.S. airstrikes, Iraq agrees unconditionally to the return of inspectors.
September 19, 2002 - Iraqi Foreign Minister Naji Sabri delivers a letter to the UN from Saddam Hussein stating that Iraq has no chemical, nuclear or biological weapons.
October 15, 2002 - Re-elected to a seven-year term with 100 percent of the Iraqi vote, according to the Iraqi government.
November 8, 2002 - U.N. Security Council unanimously adopts Resolution 1441, outlining strict new weapons inspections and threatening "serious consequences" if Iraq failed to comply.
November 13, 2002 - Iraq agrees to comply with Resolution 1441.
November 27, 2002 - Inspectors begin work in Iraq.
December 7, 2002 - Iraq submits to the U.N. a 12,000-page declaration of former weapons programs and civilian industries with military applications.
February 26, 2003 - CBS's airs Dan Rather's interview with Saddam on "60 Minutes II." Rather last interviewed Saddam in 1990. Saddam extended an offer to debate President Bush on a live global satellite broadcast.
March 19, 2003 - Iraq war begins when U.S. forces launched a "decapitation attack" aimed at the Iraqi president and other top members of the country's leadership. Hours later, a defiant Saddam wearing a military uniform appeared on Iraqi television to denounce the U.S.-led military campaign as "criminal" and to say his countrymen would be victorious.
April 1 & 4, 2003 - Statements from Saddam read out on television by the information minister, Mohamed Saeed al-Sahaf.
April 18, 2003 - Abu Dhabi TV broadcasts videotape showing what it says was Saddam in Baghdad's Azamiyah neighborhood on April 9, the day Baghdad fell to U.S. troops. In the tape, a man who appears to be Saddam climbs on the hood of a car and waves to a crowd of supporters. Saddam's son, Qusay, is also visible in the tape, Abu Dhabi TV says.
July 22, 2003 - Saddam's sons Uday and Qusay -- also on the coalition's most wanted list -- were killed in July, after U.S. forces stormed their hideout in Mosul.
July 29, 2003 - Saddam releases audio tape, denouncing strike on sons. He says, "Even if Saddam Hussein has 100 sons other than Uday and Qusay, Saddam Hussein would offer them the same path. Duty and right deserve that ... That is the hope of every fighter for God's sake, as another group of noble souls of the martyrs has ascended to their creator."
August - November, 2003 - Various audio tapes believed to have been recorded by Saddam released and broadcast on Arab media. The last audio tape was released on Nov. 16, and the CIA said the tape is "of such poor quality that the analysis is inconclusive" on whether it really is the voice of the former Iraqi leader.