Saddam gets birthday eve visit from Red Cross
(Agencies)
Updated: 2004-04-28 10:07
International Red Cross officials visited Saddam Hussein at a secret prison in Iraq on Tuesday, the eve of his 67th birthday, officials said.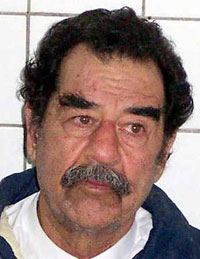 International Red Cross officials visited Saddam Hussein at his secret prison on April 27, 2004. Hussein is seen after his capture Dec. 13. [Reuters]

It was the second such visit since the deposed Iraqi leader was captured by U.S. troops in December and a stark contrast to the nationwide festivities ordered on April 28 in previous years during Saddam's rule, when his birthday was a public holiday.

"Today a visit between Saddam Hussein and authorized members of the International Committee of the Red Cross occurred at an undisclosed location," Brigadier General Mark Kimmitt, a U.S. military spokesman, told a news conference in Baghdad.

The International Committee of the Red Cross (ICRC) in Geneva confirmed the visit had taken place and that Saddam was still in Iraq, contrary to occasional speculation.

"It was the second visit. I don't know yet whether he passed any message to his family as he did the first time," ICRC spokesman Ian Piper told Reuters in Geneva.

It was in Iraq, but we never say where."

Saddam's sons Uday and Qusay, feared henchman to their father, were killed in a battle in July. He wrote in February to two daughters now living in Jordan. The whereabouts of his two wives, a third adult daughter and a teenage son are not clear.

U.S. officials, who permitted the first Red Cross visit by a doctor and interpreter on February 21, decline all comment on Saddam's whereabouts or conditions of confinement.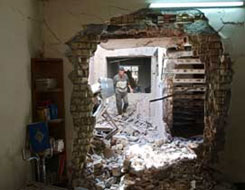 A Fallujah man looks through his home Tuesday April 27, 2004 after it was damaged in fighting on Monday. [AP]

He is being held as a prisoner-of-war, with rights to visits and correspondence under the Geneva Convention. Iraqi prosecutors are preparing a case against Saddam for genocide and other grave crimes during his three-decade rule.

On the run after U.S. troops took Baghdad on April 9 last year following a three-week offensive, he was finally captured near his home town of Tikrit on December 13, hiding in a hole.

The ICRC's Piper said all prisoners of war were entitled to be interviewed privately and to send a message to family.

"From our point of view this is routine. We are pleased but it is nothing exceptional. He is far from the only prisoner," he said. "We visit all prisoners as often as we can."

The ICRC had planned for the same team to visit Saddam this week as saw him two months ago, Piper said, but he could not yet confirm whether those people had indeed paid the visit.
Today's Top News
Top World News

US embassy visa call centre closed for illegal operation




Disaster monitoring satellites to be launched




Intervention in HK issues rejected




Workplace accidents down, but more deaths




WHO teams fly in on SARS mission




Photographer asks for compensation