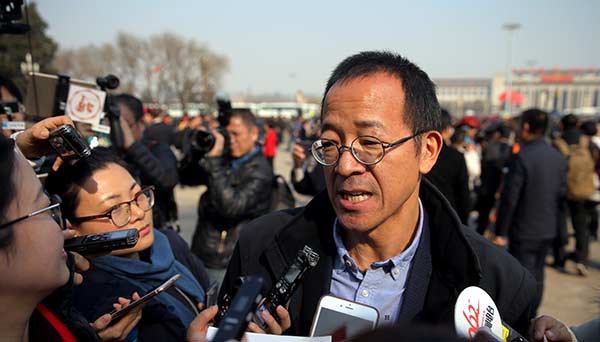 Yu Minhong answers questions in front of the Great Hall of the People in Beijing on Friday. HE HAI'ER/CHINA DAILY


Education expert forecasts rise in number of students learning abroad

Despite already being the leading source of international students for foreign universities and colleges, China is set to see even more of its young people go abroad to study in the next five years, according to an education policy adviser.
Yu Minhong, founder and CEO of the New Oriental Education and Technology Group and a member of the Chinese People's Political Consultative Conference's National Committee, estimates that the number of Chinese studying abroad each year will peak at between 700,000 to 800,000.
"Considering China's economic development and rising household incomes, the annual number (of Chinese studying abroad) will come to a head within five years. Then it will fluctuate in line with the annual birthrate and the economy," he said.
According to Education Ministry statistics, 544,500 Chinese studied abroad last year, more than triple the 179,800 that sought out education overseas in 2008.
Yu estimates that, at its peak, about 80,000 to 100,000 Chinese will be in primary and secondary education abroad; 400,000 to 500,000 will be attending colleges and universities; 100,000 to 200,000 will be pursuing postgraduate education; and 50,000 to 100,000 will be undergoing skills training or be at vocational schools.
Economic considerations and the capacity of international universities to absorb extra students will limit the increase, according to Yu.
"Foreign universities cannot simply expand their enrollment plans to take on more students," he said.
In addition, as more foreign universities jointly establish campuses on the Chinese mainland, such as the Shanghai New York University, a growing proportion of Chinese students' international education needs will be fulfilled, he said.
Yu forecasts another big increase in the number of Chinese studying overseas when the effects of the country's newly-adopted second-child policy begin to take hold.
"Families that are able to afford a second child are usually the ones in a better financial condition," he said.
Since the 2008 financial crisis and global recession, China's rising economy has enabled thousands of families to send their children to study abroad.
Last year, more than 90 percent of students studying abroad were self-sponsored and had no financial support. The percentage has remained at about that level since 2012, according to Xu Tao, head of the Education Ministry's international division.
"Universities in the US were greatly affected by the recession and became short of funding. Among all international students, Chinese have been the most eager to pay to go to school abroad. It became a cooperative relationship," Yu said.
He added that more than 80 percent of those who pursue education overseas return to China after completing their studies and contribute to the nation's economy.
"From a long-term perspective, it is a positive thing," he said. "China's policies will continue to support overseas study and the Chinese people are aware that having more students abroad can have a positive effect on the country's long-term development."
According to Yu, studying overseas fosters a global outlook and broadens students' minds. He said foreign universities will continue to welcome Chinese students, as not only they are a financial boon, but the majority are also hardworking and highly motivated.
In addition, Yu said the Belt and Road Initiative will boost opportunities for students to pursue education in countries and regions along the routes of the initiative.