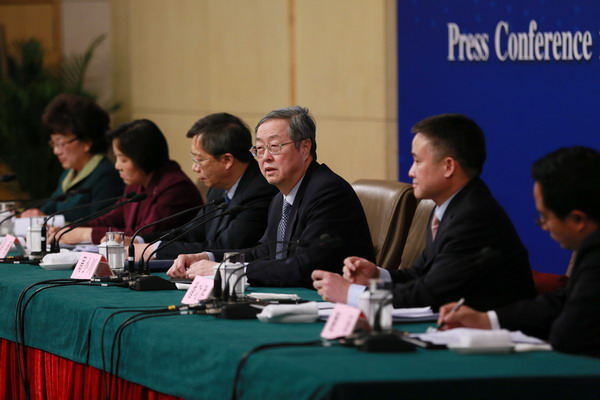 Zhou Xiaochuan, governor of People's Bank of China, takes questions from journalists at home and abroad during an ongoing press conference on March 12, 2015. [Photo / Xinhua]
Renminbi exchange rate relatively stable
The fluctuation in renminbi exchange rate has been normal and relatively small, compared with other currencies in the world, said Zhou Xiaochuan, governor of the country's central bank, on Thursday at a press conference.
Zhou said that along with the opening up of Chinese economy, the renminbi exchange rate depends on the demand and supply in international market, not just only on the country's economic fundamentals.
"Such fluctuation can ordinarily be handled by trade companies, investors and other financial market participants," said Zhou.
He added that currency fluctuations also reflect the international situation, and given last year's political problems around the world, the renminbi exchange rate has been relatively stable compared with other currencies.
"The stock connect between Shenzhen and Hong Kong bourse will roll out this year," he announced, along with other new measures, to enhance interconnection between the capital markets and support Hong Kong's role as the offshore renminbi center.
Renminbi will join SDR in near future
Renminbi is moving toward a freely convertible currency and will undoubtedly join the Special Drawing Rights (SDR) in the near future, said Yi Gang, head of State Administration of Foreign Exchange, at a press conference on Thursday.
As progress can be seen in both renminbi's onshore and offshore markets, the country will carry on financial reforms regardless of whether or when the currency will join the SDR.
The International Monetary Fund is expected to review the SDR components later this year, which is held every five years.