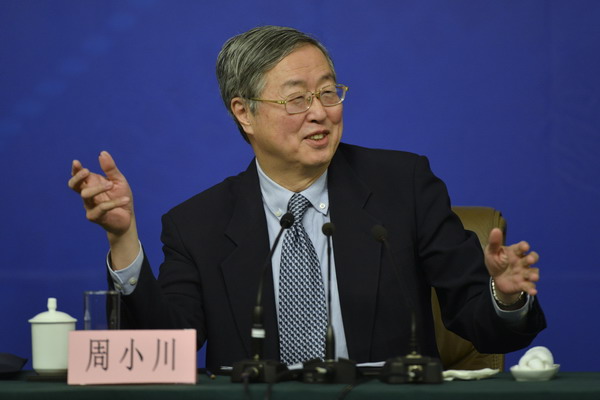 Zhou Xiaochuan, governor of People's Bank of China, takes questions from journalists at home and abroad during an ongoing press conference on March 12, 2015. [Wei Xiaohao / chinadaily.com.cn]
Interest rate liberalization likely this year
We have made great progress in the process of interest rate liberalization and the deposit rate ceiling was raised to 130 percent of the one-year benchmark deposit rate, said Zhou.
This year, it is very likely for China to fully open the ceiling limit of interest rate, Zhou added.
Silk Road Fund to target strategic projects
"There is no hard boundaries geographically where the Silk Road Fund goes, relative programs are welcome to join as long as there's need," according to Jin Qi, head of Silk Road Fund.
This first private-equity fund has finished business registration and started operating and will keep selecting good investment opportunities in the process of development, according to Jin.
The Silk Road Fund will target medium- and long-term projects that have strategic significance to support the "One Belt, One Road" initiative, Jin said.
It will invest particularly in projects involving ecological solar panel manufacturing, clean energy and ecological remediation in China and other countries along the belt.
"We will support our domestic high-tech companies to cooperate with countries along 'the belt and road' and realize the mutual development and prosperity," Jin said.
Jin said the Silk Road Fund aims to cooperate with other private equity funds instead of competing with them or replacing them.
"The projects in general need a mix of debt and equity financing and provide more financing choices to projects that can achieve stable business returns in a medium- and long-term," Jin said.