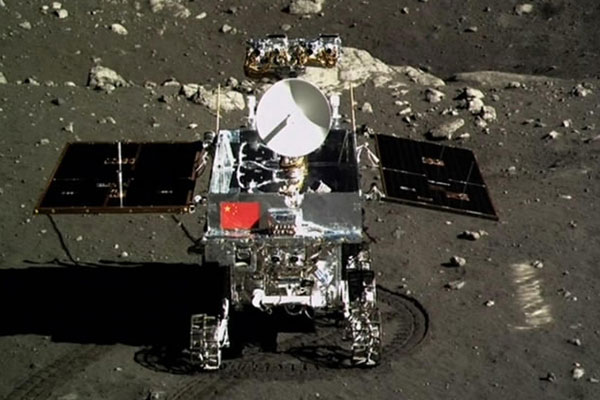 The photo of the "Yutu" moon rover taken by the camera on the Chang'e-3 moon lander during the mutual-photograph process after the successful landing of the moon probe on the moon on Dec 15, 2013. [Photo/Xinhua]
BEIJING - China has the ability to achieve the manned lunar landing but it has no plan to do it, a leading Chinese space scientist said Friday.
"With China's current technologies of manned space flight and moon probe, we have the technology basis to realize the manned lunar mission," said Zhou Jianping, chief designer of China's manned space program.
But the scientist said the world's third country to softland on the moon has no plan to land its astronauts on the moon for the time being.
Zhou, a member of the Chinese People's Political Consultative Conference National Committee, the country's top political advisory body, also said that challenges and a lot of preparation precede the realization of the manned lunar mission.
For example, it requires the research and development of a bigger carrier rocket and the bigger and more sophisticated manned spacecraft, he added.
The Chang'e-3 lunar probe, composed of a lander and China's first moon rover, named "Yutu," soft-landed on the moon in 2013, making China the third country to carry out such a mission after the United States and the Soviet Union.

Zhou also said the country will send a cargo ship into the space in 2016 to dock with a future space module scheduled to be launched earlier the same year.
The Tianzhou-1, which literally means "heavenly vessel", will carry propellants, living necessities for astronauts, research facilities and repair equipment to China's second orbiting space lab Tiangong-2.
Cargo transportation system is a key technology China must master and make breakthroughs to build its own space station, said Zhou.
China's multi-billion-dollar space program, a source of surging national pride in the country, aims to put a permanent manned space station into service around 2022.
The country already launched its first space lab, Tiangong-1, in September 2011 and has conducted two dockings with the module in the following two years. In June 2013, three Chinese astronauts delivered a physics lesson onboard Tiangong-1.
According to Zhou, Tianzhou-1 will be blasted off on top of a next-generation Long March-7 rocket, possibly from a new launch site in the southern Hainan Province.
Research on the Long March-5 carrier rocket - to be used to lift the Tiangong-2 lab into space - Tiangong-2's payload, and selection of astronauts for the mission are currently "progressing in an orderly manner," Zhou said.