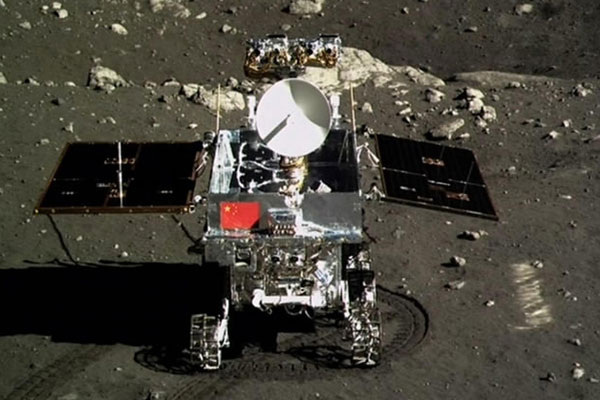 The photo of the Yutu moon rover taken by the camera on the Chang'e-3 moon lander during the mutual-photograph process after the successful landing of the moon probe on the moon on Dec 15, 2013. [Photo/Xinhua}
China is set to launch the unmanned Chang'e-5, its fifth lunar probe, in South China's Hainan province in 2017, a top Chinese space scientist and a national political advisor told Xinhua Tuesday.
It is the first Chinese lunar probe that will collect lunar samples and return to earth. The research into the launch is going as planned, said Ye Peijian, chief designer of Chang'e-1, China's first moon probe, and chief commander of the Chang'e-2 and Chang'e-3 missions.
The preparation of a Long March carrier rocket used to launch the probe and the launch site in Hainan province is also progressing smoothly, he said.
Chang'e-5 will carry a drilling machine to get moon rock from a depth of two meters.
China's lunar exploration program, named after the mythological moon goddess Chang'e, is divided into three stages: orbiting, landing, and return.
China launched its first lunar probe, Chang'e-1, on Oct 24, 2007, from the southwestern Sichuan Province. The probe ended its 16-month mission on March 1, 2009, when it crashed into the moon's surface. The second lunar probe, Chang'e-2, was launched in 2010.
The Chang'e 3, launched in 2013, marked the completion of the second stage of the country's lunar program.
As the backup probe of Chang'e 3, Chang'e 4 will be adapted to verify technologies for Chang'e 5, according to Xinhua.