Putin, Obama could meet on Syria next week
By ( Xinhua )
Updated: 2013-10-03
MOSCOW - Russian President Vladimir Putin and US President Barack Obama may have a bilateral meeting on the sidelines of the upcoming Asia Pacific Economic Cooperation (APEC) summit in Indonesia's Bali, a Kremlin official said Thursday.
"The sides are coordinating organizational parameters of this meeting, and we think the meeting will take place," presidential aide Yuri Ushakov told a press briefing.
Noting that the proposal came from Moscow, Ushakov said Washington "immediately supported" the meeting.
The two leaders will discuss a range of issues, including the development of earlier agreements and prospects for joint work on the Syria crisis, he added.
Obama aborted a planned summit with Putin in early September ahead of a Group of 20 (G20) summit in Russia's St. Petersburg, citing "lack of progress" in bilateral relations.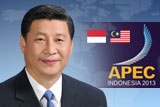 China should increase investment in ASEAN
China should ratchet up cooperation with Association of Southeast Asian Nations countries to expand Beijing's regional influence while countering Washington's Asia-Pacific pivot strategy.