Visit will 'carry forward our traditional friendship': Xi
By ( Xinhua )
Updated: 2013-10-03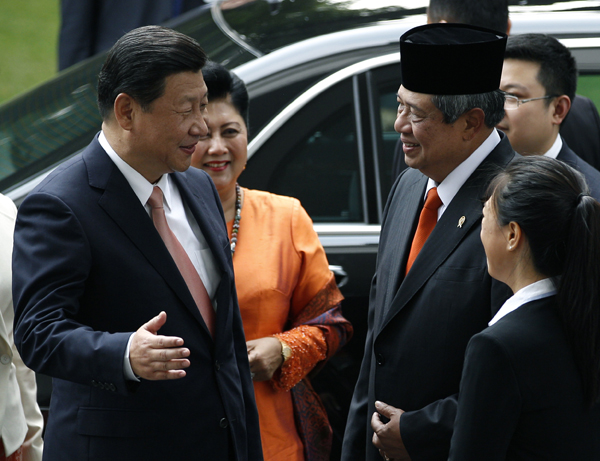 President Xi Jinping talks with his Indonesian counterpart Susilo Bambang Yudhoyono at the Merdeka Palace in Jakarta on Wednesday. Achmad Ibrahim / Associated Press
President Xi Jinping gave a joint written interview to media from Indonesia and Malaysia on bilateral relations, the leaders' meeting of the Asia-Pacific Economic Cooperation, and the prospects of economic development in the Asia-Pacific region.
The media include Indonesia's Jakarta Post and Kompas, Malaysia's Utusan Malaysia, Sin Chew Jit Poh, and New Straits Times.
Following are excerpts of the interview:
1. We have noticed that Indonesia is the first stop of your first visit to Southeast Asia as China's president. What are your expectations for the visit?
Both China and Indonesia are major developing countries in the region, and their strategic cooperation carries a great significance and boasts good prospects. The purpose of my state visit to Indonesia is to carry forward our traditional friendship and plan our cooperation. I look forward to an in-depth exchange of views with President Susilo on ways to advance our friendship and cooperation on all fronts and bring China-Indonesia relations to a new high.
2. Both China and Malaysia have put in place a new government this year. How do you see the current China-Malaysia relations and what are your expectations for the future course of this relationship?
China-Malaysia relations have come a long way in recent years and are well on track to an all-round, steady and results-oriented expansion. I look forward to an in-depth exchange of views with Malaysian leaders on ways to promote multi-directional cooperation and build a stable framework for the long-term and sound growth of our bilateral relations. I am convinced that with our joint efforts, China-Malaysia strategic cooperation will grow from strength to strength and bring greater benefit to the two peoples.
3. The 21st APEC Economic Leaders' Meeting will be held on Oct 7 and 8 in Bali, Indonesia. What do you expect from this meeting? China will host the APEC meeting next year, and could you share with us China's ideas on hosting that event?
China hopes that the 21st APEC Economic Leaders' Meeting will focus on the region's leading role in global economic recovery while endeavoring to shore up the international community's confidence in the development of the Asia Pacific.
China will host the 22nd APEC Economic Leaders' Meeting in 2014. We expect to use the occasion to encourage APEC economies to build closer partnerships in an open, inclusive and win-win spirit, promote a greater leadership role for APEC and promote greater progress in Asia-Pacific integration.
4. Economic integration in the Asia Pacific region is gaining momentum, as evidenced by the mushrooming regional free trade agreements such as the Trans-Pacific Partnership Agreement and the Regional Comprehensive Economic Partnership. What is your view on Asia-Pacific economic integration? What role can APEC play?
As a Chinese saying goes, "the ocean is vast because it admits hundreds of rivers". China has always actively supported and participated in the process of Asia-Pacific economic integration, always upholding an open attitude to any mechanism or arrangement that is conducive to the process. At the same time, we believe that in developing FTAs, the parties should cherish the principles of openness, inclusiveness and transparency and, in particular, demonstrate flexibility for economies at different development stages, so as to offer more options for integration.
5. This year marks the 10th anniversary of the establishment of the China-ASEAN strategic partnership. Over the past decade, relations between the two sides have come a long way. There is great interest in their future development, including ways to handle the South China Sea issue. How do you see the prospect of China-ASEAN relations in the next 10 years?
Emerging markets in Asia, China and ASEAN are linked together by common destiny. Moreover, we hold out much hope for sustained economic growth in the region and the world as a whole. As developing economies, both China and ASEAN face a top task of growing the economy and improving people's livelihood. Our cooperation is aimed not only at creating a broad horizon and inexhaustible business opportunities for ourselves, but also at making a greater contribution to world prosperity and stability.
6. ASEAN countries share the hope that China will stick to the path of peaceful development and that the Chinese dream and the dreams of other countries for better lives and national development will reinforce each other. What's your comment?
The Chinese people are striving to realize the Chinese dream of achieving the great renewal of the Chinese nation. The Chinese dream has much in common with the dreams of ASEAN countries, as they are all about achieving national development and prosperity and people's well-being and happiness. Exploiting our respective advantages and tapping our potential for win-win results, China and ASEAN countries can go hand in hand and help each other on the path toward our shared aspirations.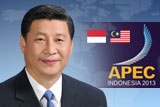 Xi makes a historic trip to the land where countless generations of Chinese have emigrated to, settled down, and melded into.