Trip to improve 'connectivity' between nations
By ZHANG YUNBI ( China Daily )
Updated: 2013-10-03
The fruits of cooperation between Indonesia and China have been "outstanding", and the neighbors should jointly confront the financial shock wave from outside the region, Indonesia's ambassador to China Imron Cotan told China Daily.
President Xi Jinping arrived in Jakarta on Wednesday on the first leg of his trip to the Southeast Asia region.
Xi's choice of Indonesia as the first country to visit on his Southeast Asian tour "strongly indicates that China places utmost importance in its relations with Indonesia, the biggest nation and economy in the Southeast Asia region", Cotan said.
China and Indonesia established their strategic partnership in 2005, and the ambassador said Xi's visit will further elevate the strategic partnership "onto a far higher plane".
Prior to the presidential visit, senior officials from both nations worked hard to boost dialogue on finance and fiscal policy, trade, counter terrorism and law enforcement, fisheries, defense industries and tourism, Cotan said.
Major topics on the agenda between Indonesian President Susilo Bambang Yudhoyono and Xi will be on enhancing connectivity between Indonesia and China as well as trade, Cotan said.
Two-way trade jumped from $26.3 billion in 2010 to $66.6 billion in 2012.
China's investment in Indonesia was around $600 million in 2010, while last year it accumulated to around $2.02 billion. Travelers from China also jumped to 850,000 last year compared to around 250,000 in 2010.
"A number of trade, tourism and investment forums have been organized around China with the help of all stakeholders both in Indonesia and China," the ambassador said.
In the economic dimension, the two countries have realized the need to strengthen air and sea transportation, and digital communication, establishing a "solid interconnectivity between the two biggest nations and economies in the region", he said.
The ambassador said Indonesia "appreciates China's peaceful approach in enhancing its relationship with Southeast Asian countries".
"The region is geographically very close to China and with the ASEAN-China FTA, as well as various other economic and political instruments of cooperation, I am confident that the bond of relationship and friendship will naturally become stronger and closer between the two as time progresses," he said.
Southeast Asia is now having a hard time because of the sluggish economy and influence from outside the region, including the latest changes in US financial policy.
The "most logical" way for China and Indonesia to weather the financial impact from outside the region is "to further enhance the Free Trade Agreement signed by ASEAN and China", the ambassador said.
zhangyunbi@chinadaily.com.cn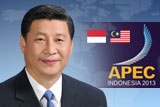 Xi makes a historic trip to the land where countless generations of Chinese have emigrated to, settled down, and melded into.
ASEAN members take lead from Indonesia being the largest of them all in many ways. China's relationship with it must get better.