More people aiding anti-terror fight
By Zhu Zhe (China Daily)
Updated: 2012-11-10 07:59
More members of the public in Northwest China's Xinjiang Uygur autonomous region are supporting government efforts to combat terrorism, violence and separatism, a senior official said on Friday.
This is giving the authorities increased confidence in maintaining safety in the rapidly developing region, the official said.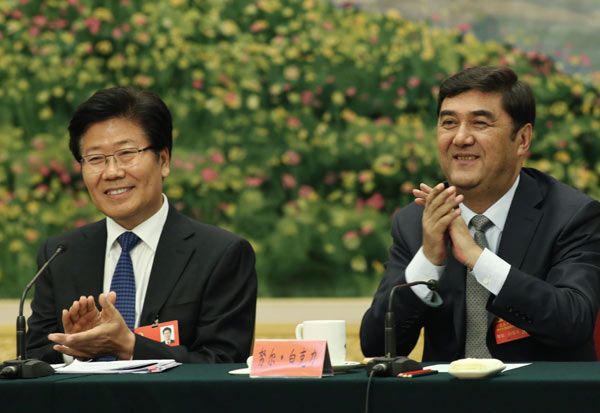 Nur Bekri, right, chairman of the Xinjiang Uygur autonomous region, and Zhang CHunxian, Party chief of Xinjiang, applaud during a session of the ongoing 18th Party Congress in Beijing on Friday. [Photo by Xu Jingxing/China Daily]
In some areas of southern Xinjiang, where there is a higher risk of terrorism and violence, more people are giving the government tips and clues about such activities or on suspicious people, Nur Bekri, chairman of the autonomous region, said during a group discussion of the ongoing 18th National Congress of the Communist Party of China.
In the past, such tips and clues came mainly from the police or through "technical measures", he said.
In addition, an increasing number of people who had joined extremist religious organizations, and terrorist or violent groups have turned themselves in, Nur Bekri said.
"Such changes show that more and more common people in Xinjiang are supporting us in fighting the three forces (separatism, extremism and terrorism), giving us more confidence in maintaining a stable Xinjiang," he said.
The chairman said ethnic separatism remains the top threat to Xinjiang's stability. He said the separatists, some of them terrorists, are unwilling to see a unified and stable Xinjiang, and seize any chance to use violence and carry out terrorist activities.
On June 29, six men tried to hijack a flight from Hotan to the regional capital of Urumqi, injuring 11 people on board. But the plot failed thanks to the joint efforts of the crew and passengers. The suspects are awaiting trial.
On Feb 28, nine terrorists armed with knives attacked a crowd in Kashgar prefecture's Yecheng county, killing 13 people. Seven terrorists were shot dead at the scene and one died later from injuries, according to the prefecture's information office. A local court sentenced the ringleader to death in March for running a terrorist organization, leading terrorist attacks and murder.
Nur Bekri said these incidents show Xinjiang still faces a serious situation in fighting the "three forces", and the fight will be long and complicated.
"However, these scattered cases of violence or terrorism cannot change the overall stable situation of Xinjiang," he said.
Nur Bekri said another threat comes from changing situations in neighboring countries. He was responding to a media question about recent reports that some "East Turkistan" terrorists have taken part in the fighting in Syria.
"The changing international situation, especially in neighboring countries, brings new challenges (for Xinjiang to maintain stability)," he said. "So we must quickly analyze situations we're facing and adjust our measures."
Zhang Chunxian, Party chief of Xinjiang, said on Friday that improving people's livelihoods is key to maintaining stability in the region.
"People's livelihoods are closely related to each family. Improving their livelihoods is injecting positive power into society," he said during the group discussion.
He said in recent years, the Xinjiang government has offered free education and medical care to disadvantaged groups, and helped college graduates get jobs.
For example, more than 1,600 child beggars originating from Xinjiang have been brought back to the region from across the country and reunited with their families since 2010, Zhang said.
The regional government has also offered free treatment to about 3,000 children with congenital heart diseases, he said.
Zhang said the government will continue building Xinjiang into a resource base and corridor for the country, as well as a key western development area.
Xinjiang has rich resources, with gasoline reserves of 20.92 billion tons, comprising 30 percent of China's total continental petroleum resources. It also boasts 2.19 trillion tons of coal reserves, accounting for 40 percent of the country's total, according to the Xinjiang government.
zhuzhe@chinadaily.com.cn