Plans outlined to improve life in Tibet
By An Baijie (China Daily)
Updated: 2012-11-10 07:24
Officials from the Tibet autonomous region have vowed to improve local people's livelihoods.
Losang Gyaltsen, vice-chairman of the region, said on Friday that local officials will also continue to help farmers and herdsmen to resolve their difficulties and improve their livelihoods.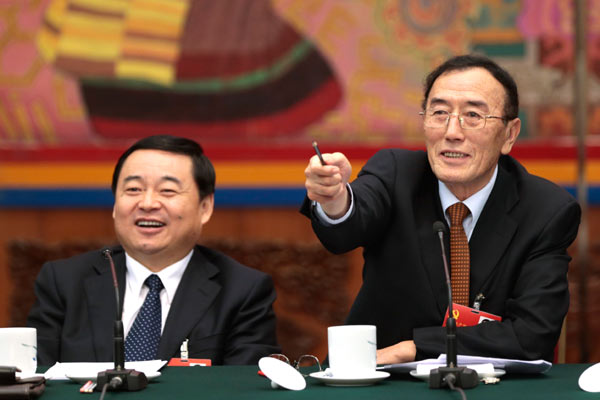 Qiangba Puncog (right), chairman of the Standing Committee of the Tibet People's Congress, is ready to take questions from reporters after a group discussion on Friday in Beijing. [Photo / China News Service]
The government has made considerable effort in improving the condition of the region's infrastructure, including its temples, replacing water pipes, repairing roads, and ensuring electricity supply, he said during the 18th National Congress of the Communist Party of China in Beijing.
The government has also provided free medical checks, and introduced a social security system for monks, he said.
Liang Tiangeng, head of the organization department of the CPC Tibet autonomous region committee, said that the local government will achieve its goal of building 400,000 homes for farmers and herdsmen by the end of this year, of which more than 330,000 have already been built.
The unemployment rate in Tibet is 2.69 percent in urban areas, which is lower than in most cities nationwide, he said.
Basic medical insurance has been made available for all herdsmen in Tibet, he added.
Losang Gyaltsen condemned the activity of inciting people to self-immolate, saying that it's a "crime of murder" in accordance with Chinese law.
"We believe that this (inciting people to self-immolate) is contrary to human common sense and morality," he said.
Qiangba Puncog, chairman of the Standing Committee of the Tibet People's Congress, criticized some overseas media for describing Tibet as "burning".
"The media should neither support nor encourage self-immolation," he said on the sidelines of the congress. Innocent people should not sacrifice their lives to fulfill the political motives of others, he said.
anbaijie@chinadaily.com.cn