Party continues to expand
By He Dan and Zhao Yinan in Beijing and He Wei in Shanghai (China Daily)
Updated: 2012-11-10 03:02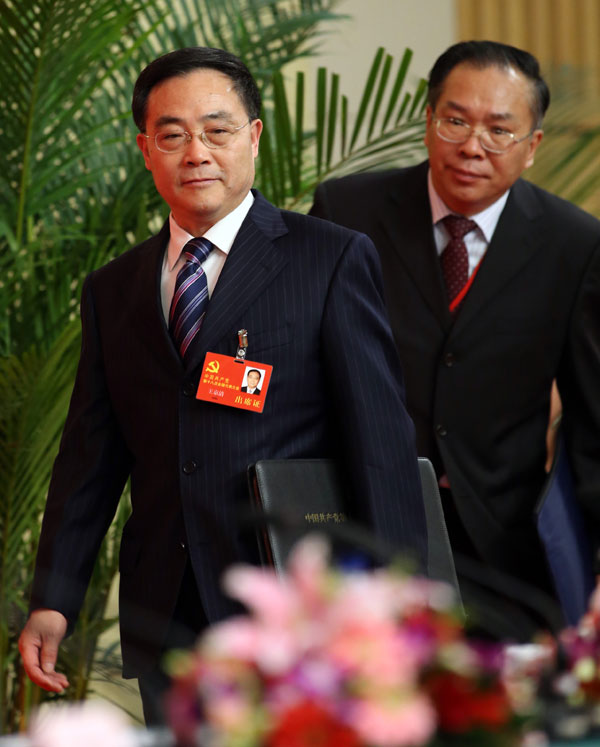 Wang Jingqing, vice-minister of the Organization Department of the Communist Party of China Central Committee, arrives on Friday for the first news conference since the opening of the 18th
CPC National Congress
in Beijing. Behind him is Wang Guoqing, vice-minister of the International Communication Office of the CPC Central Committee. [Photo by Wu Zhiyi / China Daily]
More companies set up units to create better relationships in the workplacee
Many foreign companies have set up Party organizations in their companies, marking major progress in building the Party, an official said on Friday.
To date, about 983,000 private companies, including 47,000 foreign-owned companies, have established Party organizations, said Wang Jingqing, vice-minister of the Organization Department of the Communist Party of China Central Committee.
Party units have helped companies learn about the latest national policies and have improved relations between employers and employees, he said.
According to the Party's charter, any grassroots unit — such as a company, village or school — that has three or more Party members must establish a Party organization.
The Company Law stipulates that companies should provide for Party activities.
Setting up Party organizations in non-public sectors meets employees' needs and helps employers understand their employees, Wang said.
According to Wang, a senior executive of US direct-selling giant Amway said that the Party organization helped Amway executives have a better understanding of national policies and regulations.
It also helped resolve conflicts within the company, and the best employees are Party members, he said.
So the Amway executive particularly welcomed the Party unit carrying out its activities, Wang said.
More than 1,000 employees at Beijing Hyundai, a Chinese arm of the South Korean automaker, expressed their keenness to join the CPC, Wang said, citing a South Korean manager from the company.
"After the 18th National Congress of the CPC, Party organizations in private companies will better serve companies' development and provide better services for employees," he said.
Beverage giant Anheuser-Busch has 43 Party members in its Chinese branches, according to Han Xue, head of the company's Party organization.
These Party members are avid volunteers promoting a healthy drinking culture and fighting against alcohol abuse in local communities, Han said. What they do is an integrated part of the company's core social responsibility.
But building the Party in foreign companies still has room for improvement.
The Beijing Investment Promotion Bureau surveyed 111 foreign companies that have set up Party committees.
About 39 percent of them do not convene regularly, and nearly 23 percent of them said they found it difficult to attract participants to join Party activities.
Liuyang Junzi, a Party member working in a foreign real estate company's Beijing office, said he had taken part in various kinds of activities, such as blind dating, community cleaning, excursions and theory studies.
The 27-year-old said the Party committee of Chaoyang district, where the company is located, sends text messages with detailed information about the activity to committee members.
He said he has found these activities not only interesting but helpful, as the committee "introduces work opportunities to members who lose their jobs". He suggested setting up more Party committees.
"It will be best if each office building can have its own committee. It is a little inconvenient for the employees from different office buildings nearby to gather together every time there is an event," he said.
Wang also urged the strict implementation of Party discipline.
The CPC, with more than 82 million members, is the world's largest political organization. Without strict discipline, such a big Party can hardly maintain its integrity and it will achieve nothing if it lacks the spirit of cooperation, he said.
Contact the writers at hedan@chinadaily.com.cn