Jilin Party chief focuses on people's well-being
By Han Lei (chinadaily.com.cn)
Updated: 2012-11-09 22:32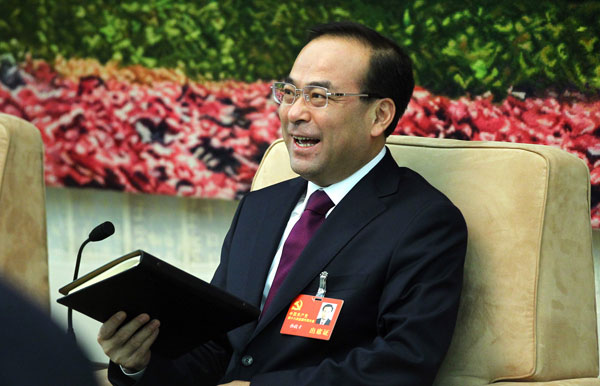 Sun Zhengcai, Party chief of Jilin province, talks during a group discussion on Friday on the sidelines of the 18th Party Congress in Beijing. [Photo by Zou Hong/Asianewsphoto] 
Sun Zhengcai, Party chief of Jilin province, said economic development and people's well-being are his top priorities.
During a group discussion on Friday on the sidelines of the 18th Party Congress, he interrupted Xu Jianyi, chairman of First Automobile Works, twice, asking him about the company's production and sales.
He looked satisfied after learning that the company's profits increased 30 percent year-on-year in the first nine months of 2012.
And he asked about the establishment of auto finance and insurance companies, measures taken by Western auto companies to boost sales.
Sun was interested in FAW for a good reason. FAW is a flagship enterprise in Jilin and has a major role in the province's development. China's first self-made automobile rolled off the production line at FAW in 1956.
As an old industrial base and a key agricultural area in the country, Jilin has made great contributions to the country in terms of both grain production and industrial development. However, the province experienced a difficult period, when many State-owned enterprises were shut down and workers were laid off.
Thanks to the central government's strategy of revitalizing the nation's old industrial bases, the province overcame these difficulties and set out on a new path of development, said Sun.
"Development is key to resolving all kinds of difficulties," he told the delegates, urging the local government to beef up reform and opening up and innovations, which he said were the most important growth engines for the province in the past five years.
Meanwhile, he stressed the need to improve people's livelihoods.
"Our work will stay on the right course as long as we stick to the principle of improving the people's well-being," he said.
Jilin has taken a series of measures over the past three years to improve its residents' standard of living, investing 70 percent of its newly added fiscal revenue in these efforts.
The "Warm House" project initiated by Sun two years ago is representative of these efforts. It refers to the installation of new heating systems or the updating of existing ones, and the insulation of old buildings.
Located in northeastern China, the province usually sees the temperatures plunge below -20 C in the winter. Many old residences in the province have no central heating and are poorly insulated.
More than 50 billion yuan ($7.94 billion) has been invested in the project over the past two years. The project has benefited 2.6 million families in urban, rural, forest and mining areas, including the parents of Li Wanjun, a delegate from Changchun Railway Vehicles Co Ltd.
"My parents are in their 70s, and they are happy to have a warm winter this year," he said.
hanlei@chinadaily.com.cn