CPC congressional session set to begin
By Zhang Xiao (chinadaily.com.cn)
Updated: 2012-11-07 18:03
The 18th National Congress of the Communist Party of China (CPC) is set to convene on Nov 8 in Beijing. Chosen from a group of nearly 82 million CPC members across the nation, 2,270 delegates will attend the congressional meeting that happens once every five years.
Officials will deliberate and decide on a series of significant issues on the future development of the Party and the country.
In the past 10 years, China's economic strength has increased substantially, and major breakthroughs have been made in reform and opening-up. Both urban and rural incomes have risen considerably. Living standards are significantly higher, and China has increased its involvement and cooperation with other countries in a number of fields. It has also started to play a major role in international affairs.
However, while those achievements have brought opportunities, they have also prompted unprecedented challenges in fields such as environmental protection and social welfare.
The congress will thoroughly examine the current international and domestic situations and take into account of the new requirements for the country's development and new expectations from the people.
The congress will draw out the guidelines and policies that respond to the call of the times and fulfill the wishes of the people.
The congress will make strategic plans for the overall advancement of China's reform and opening up and socialist modernization drive, as well as for the overall advancement of building the Party in the new era.
More than 1,700 overseas journalists registered to cover the congress. The number of journalists, including those from Taiwan and the Hong Kong and Macao special administrative regions, far exceeds the number at the congress five years ago.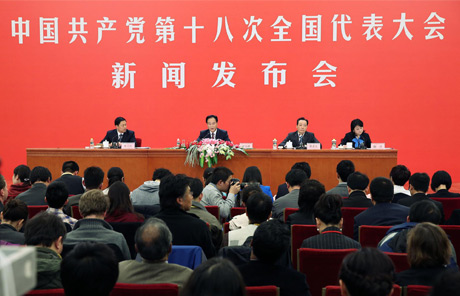 Video: Zhang Xiao
Voiceover: Chris Clark
Producer: Flora Yue