The forum was held from May 29 to 31 in Brussels.
Theme: "China and Europe cooperate to meet challenges"
Participants: International Department of the CPC Central Committee, All China Federation of Trade Unions, MEPs, leaders from European political parties, entrepreneurs, scholars, press……
Focus: ways to strengthen cooperation in international issues and in economic, trade and financial areas.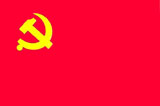 A full coverage of the Communist Party of China (CPC) marking the 90th anniversary of its founding on July 1, 1921.