Cost of traditional medicine shoots up
Updated: 2012-03-02 08:01
By Guo Anfei and Zheng Caixiong (China Daily)
| | | | | | | | | | | |
| --- | --- | --- | --- | --- | --- | --- | --- | --- | --- | --- |
|   | | Comments() | | Print | | Mail | | Large Medium  Small | 分享按钮 | 0 |
Consumers feel pressure of price rise, traders say situtation may continue
GUANGZHOU / KUNMING - It was too much for housewife Xie Xiaolan. For once, the fish head soup she often made for her family would have to do without the tianma.
The cost of the herbal medicine, made from the starchy roots of orchids, was becoming too expensive.
It was the same for other herbal ingredients used in traditional Chinese medicine due to the severe drought in Yunnan province, the principal source.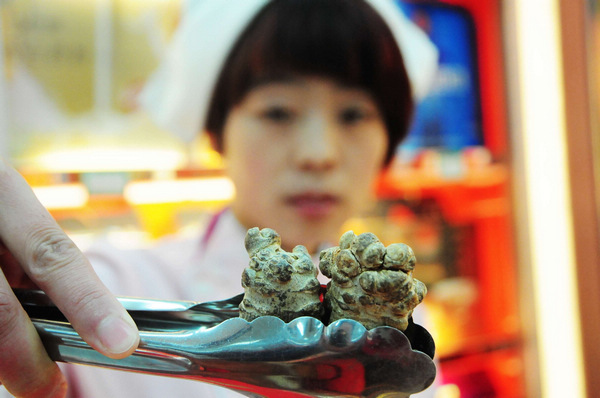 A staff worker shows Yunnan-produced sanqi, a kind of herbal medicine, in a pharmacy in Qingdao, Shandong province. The drought in Yunnan province has resulted in a TCM price hike. [Yu Fangping / for China Daily]
"My husband and I frequently suffer from light migraine, and doctors told us tianma can help cure migraine and headache," Xie, 47, told China Daily on Wednesday.
"But now I have to cook the soup less often, maybe every two or three months, because of the price hike in traditional Chinese medicine," added Xie, who lives in Yuexiu district of Guangzhou.
One kilogram of tianma now sells for 360 yuan ($57) at Taojin agricultural market in the city, a rise of more than 10 percent over the past two months.
"Many friends and neighbors who frequently use the TCM in herbal soup to cure diseases also plan to cut back use, unless the prices of the herbs fall," Xie added.
According to Yunnan provincial chamber of medicinal herbs, more than 80 percent of the TCM herbs have increased in price since late last year, because of the drought in Southwest China.
The price of one herb, sanqi (pseudo-ginseng), has increased to more than 500 yuan a kilogram in Guangzhou's herb markets, a 60 percent rise over the past year, while other commonly used herbs have increased up to 30 percent.
In Yunnan's Wenshan prefecture, which annually produces more than 97 percent of the country's sanqi, the drought has seriously affected growth and production.
Wang Yicheng, who runs a herbal medicine shop in Kunming, capital city of Yunnan, said the price of sanqi was rising daily.
According to TCM doctors, sanqi can help improve blood circulation and reduce swelling.
"Sanqi has now hit its highest price in history," Wang declared.
He is selling a kilogram for 550 yuan. At the end of last year it was 400 yuan.
Yu Yuqi, manager of Yunnan Wenshan Sanqi Industrial, warned that production would fall 30 percent this year as there was likely to be little rainfall this month to alleviate drought.
Yu said he planted more than 133 hectares of sanqi and had to spend extra this season on water pumps.
A trader surnamed Chen in Guangzhou's Qingping market said business had dropped by around 15 percent since the beginning of year.
"Prices of most herbal medicines will not fall in the near future, as I have learned that the serious drought in Yunnan is still spreading," he said.
The prices in major TCM hospitals in Guangzhou, however, remain stable.
But a doctor from Guangdong No 2 Hospital of TCM, said he could not promise the hospital's TCM prices would remain unchanged.
Hot Topics
Wu Ying, iPad, Jeremy Lin, Valentine's Day, Real Name, Whitney Houston, Syria,Iranian issue, Sanyan tourism, Giving birth in Hong Kong, Cadmium spill, housing policy