A home for the festival
Updated: 2012-01-20 07:39
By Yang Yijun (China Daily)
| | | | | | | | | | | |
| --- | --- | --- | --- | --- | --- | --- | --- | --- | --- | --- |
|   | | Comments() | | Print | | Mail | | Large Medium  Small | 分享按钮 | 0 |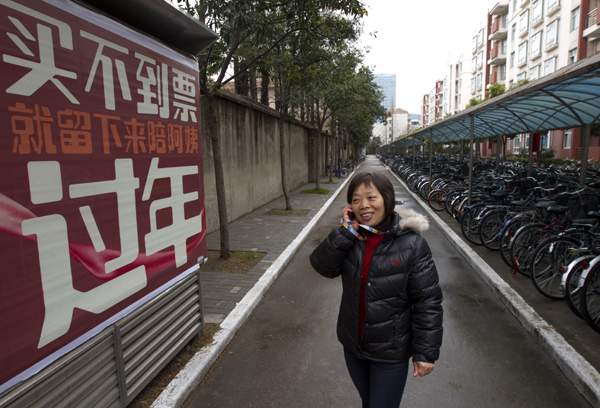 Zhou Yaping, a dormitory supervisor at Fudan University in Shanghai, stands next to a poster reading: "If you fail to buy a ticket home, then stay with Auntie for the Chinese New Year". She has been inviting students who stay on campus to her home to celebrate the festival. Gao Erqiang / China Daily 
SHANGHAI - "If you fail to buy a ticket home, then stay with Auntie for the Chinese New Year."
So reads the poster put up in an eye-catching position on the bulletin board in the dormitory area of Fudan University.
The dormitory area appears quiet and empty in the chilly weather, as almost all of the students have already gone home for the Spring Festival.
"This year none of the students in the dormitory building I work in are going to stay at the university during the Chinese New Year, so I can't prepare a reunion dinner for the students as I did in past years," said Zhou Yaping, 52, supervisor of dormitory No 29.
Each year, some of the students from outside Shanghai can't go home to celebrate the Chinese New Year with their families. Some stay at the university to look for jobs or prepare for the entrance examination for postgraduate schools. Others failed to buy or couldn't afford a ticket home.
That's when Auntie Zhou, as the students call her, steps in to prepare a sumptuous dinner in her home for the students who stay on campus.
"My husband is a chef in a five-star hotel. A dinner like this is just a piece of cake for him," Zhou said.
Signature dishes include smoked fish and sweet and sour mandarin fish, which are a Shanghai local specialty.
"Since there are very few students who stay, I usually take about four students home. Sometimes the girls bring their boyfriends," Zhou smiled and said.
They watch the Spring Festival evening gala on television during the dinner, which is the Chinese people's traditional way to celebrate the festival.
"After the dinner, I have my son walk them back to ensure they arrive at the dormitory safely," she said.
If she is on duty, she brings the dishes to the dormitory and heats them in the microwave.
Fan Yao still remembers the dinner he had in Zhou's home in 2004. His wife used to live in the dormitory that Zhou was in charge of and he was invited to the dinner that year.
"Thanks to her husband's superior cooking skills, we had some dishes that could not be found on an ordinary family's dinner table. I like that sweet and sour mandarin fish most," he recalled.
Fan's wife, who is now studying in the United Kingdom, keeps a close relationship with Zhou, even after graduation. She used to help Zhou's son with his English and once helped him find an intern job.
However, Zhou, who is a warm-hearted yet low-profile Shanghai native, insists that she is just one of the university's ordinary aunties.
"There are some 160 dormitory supervisors at Fudan. Many of them are doing their jobs better than I do," she said.
At Fudan University, every supervisor keeps a work log where they take detailed notes, such as which rooms have been inspected already and which student is ill.
"When I write down which student is ill in the log, the person on duty after me will be able to take proper care of her," said her colleague Shen Jiazhen.
In Shen's dormitory building, there is only one student staying for the winter holiday, but she and her colleagues still keep inspecting the building three times a day to ensure the student's safety.
"Sometimes we bring our homemade dishes and ask the student to join us. We don't want her to feel lonely," Shen added.
This is just what an auntie should do for the students, Zhou feels.
"I like the students. They are like my sons and daughters," she said.
China Daily