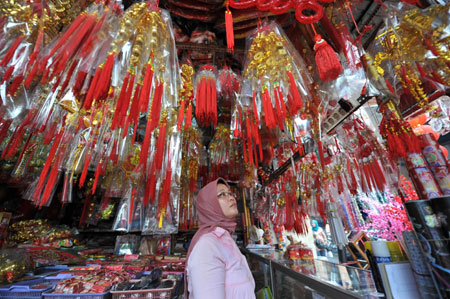 An Indonesian woman shops for lunar new year decorations at a shop in the capital, Jakarta, on Jan 21. Across Asia and other parts of the world, the traditional holiday is the most important to people with Chinese heritage. [Photo/Agencies]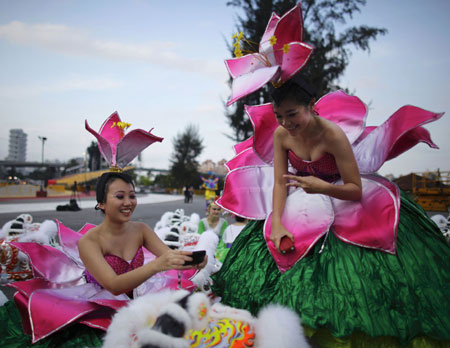 A performer poses in front of a Chinese lion head before a dress rehearsal for the Chingay parade in Singapore Jan 22. [Photo/Agencies]
Thailand
For many Thais of Chinese heritage, the lunar new year has become an unabashed public display of identity, as well as a mainstream, commercialized event. Department stores rake in revenue with special promotions, as shoppers splurge with "lucky money". Small to medium-sized businesses owned by Chinese Thais will close for at least three days.
Prasit Ongwatana, chief organizer of this year's Yaowaraj Chinatown's two-day street festival, said that, as in previous years, Princess Chakri Sirindhorn will preside over the Feb 3 ceremony. "Chinese Thais have become so well integrated in society that we no longer feel embarrassed or self-conscious celebrating the new year," he said. "Residents of Yaowaraj Road take pride in our strict adherence to the authentic ancient Chinese customs."
However, Viroj Tangvarnich, an expert on Chinese culture, said not every Chinese Thai is staying true to religious and cultural observances. "It's not uncommon to see Chinese new year food offerings that consist of, say, KFC fried chicken or store-bought pork jerky. Whatever today's people like to eat is considered fit for offering."
United States
Spring Festival has become a key time for networking for Asians living and working in the US, according to business leaders. "It's a very unique time. More (Chinese Americans) are celebrating because it's a common bond (China and the US) share. We share the same roots and values and culture and that's really important," said Savvio Chen, northeast regional president for the US Pan-Asian American Chamber of Commerce.
Asian American Bar Association in New York organizes a large banquet every year to welcome the new year, which offers a good opportunity to show Asian American lawyers that "they're not alone", said executive director Yang Chen.
"We represent 4,000 Asian attorneys. When you're working at a firm with mostly White lawyers, you might feel somewhat isolated," he said. "Last year, 500 attorneys, judges and prosecutors come to our event. It allows Asian Americans to build a network and exchange ideas. Our dinner is a way to showcase Asian American talent."
Meanwhile, all 65 workers at Suntech Power's factory in Arizona will receive hongbao (lucky money) to mark the holiday. "For most, this will be their first time celebrating the lunar new year," said Walker Frost, a spokesman for the Chinese-owned company.
Singapore
Peter Wee is a fourth generation Peranakan - descendents of 15th and 16th century Chinese immigrants, mostly of Hokkien ancestry, who married Malay and Indonesian spouses in the Nusantara region - and has run the two-story Katong Antique House (part-shop, part-Peranakan museum) for 30 years.
For this 65-year-old, the reunion dinner on lunar new year eve is an elaborate and important tradition. "We set up the ancestral altar and place Peranakan food like fruits and wine on it. This is an act of remembering our past," he said.
The family then eats the same food for their reunion dinner, which Wee insists, "has to be held at home". Having it in a restaurant takes away the meaning of the tradition, he said. "Besides having dinner at home, it is vital that people eat traditional food. Young people these days are losing a sense of history and culture".
India
The banners are being fixed, the symbolic red lanterns made ready and the dragon dancer are lining up. Even as their once burgeoning community shrinks in size, Chinese in Kolkata hope the Year of the Rabbit will be a year of revival for them.
This year, the lunar new year will be celebrated with the usual dancing, music and stage performances. Yet, for many, Sunday's celebrations offer a chance for younger generations to get back in touch with their cultural roots.
Kolkata's Chinese community has shrunk from about 50,000 to just 4,000 in the past two decades, although it is still the largest compared with other cities in India, Bangladesh, Pakistan and Nepal.
"I'm Chinese but Indian influence on me and my children is strong," said Paul Lin, 61, a second-generation Indian Chinese who manages the family leather business. "The new year celebration is an opportunity to come together and make the next generation aware of their culture."
The Philippines
There is a Chinese belief with Buddhist origins that lighting incense at new year brings luck and blessings. The Filipino Chinese twist has been to combine Buddhism with the Catholic custom of visiting churches.
"Some Chinese also do a kind of church visit," said Ari Dy, a Catholic priest with the Society of Jesus. "They go to several temples on new year's eve, offer incense and pray for blessings."
Chinese born and raised in the Philippines are locally called Chinoys (a combination of the Tagalog words "Chino" for Chinese and "Pinoy" for Philippine). They celebrate the lunar new year with a big meal, which includes noodles (symbolizing long life) and a whole fish (signifying prosperity). Other traditions include ancestral worship, distribution of red packets filled with cash and the handing out of Tikoy, sweet sticky rice cakes.
As well as dragon dances in Chinatowns nationwide, there is an exhibition on Chinese-Philippine relations at Manila's Bahay Tsinoy Museum and a grand parade planned for the northern city of Baguio. In Tayabas, residents will be able to enjoy a historical talk, language tutorials, fireworks and Chinese movies.
"Things are a lot different from the days when lunar new year was an all-Chinese affair. Chinese new year is now a public celebration," added Dy.