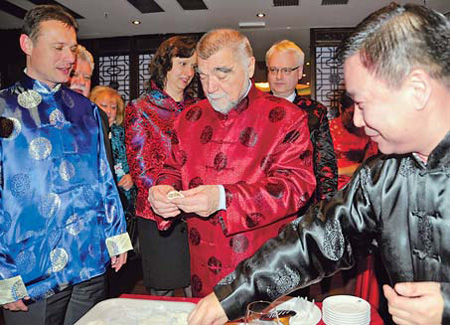 Former Croatian president Stjepan Mesic (center) learns how to make jiaozi, or dumplings, at the Chinese embassy in Zagreb on Wednesday to celebrate the upcoming lunar new year. [Photo/Xinhua]
Revelers get ready to welcome the Chinese New Year.
Reporting by Kelly Chung Dawson in New York, Zhang Haizhou and Zhang Chunyan in London, Chan Kin Sang and Simon Parry in Hong Kong, Karl Wilson in Sydney, Indrajit Basu in Kolkata, Esther AuYong in Singapore, Kitty Go in Tokyo, and Thana Poopat in Bangkok.
On Feb 3, the majestic tiger will stride away and the genial rabbit will hop in to take its place as Chinese worldwide welcome in the lunar new year.
Related readings:


 Rabbit mania hops across China


 Sydney gears up for Chinese New Year celebration

 Special: New Year dawns for China's grassroots


 Light display dazzles for Spring Festival


Share your Spring Festival photos
The 12-animal zodiac of the Chinese calendar is an enduring symbol of one of the globe's most important annual festivals. Yet, for many families, cultural customs are giving way to modern-day conveniences.
More people in the East and West now choose to hold celebrations and reunion dinners in restaurants, instead of at home. Change is inevitable, however, and as Viroj Tangvarnich, a Bangkok-based expert on Chinese culture, explains: "What really counts are good intentions."
Despite its evolution, the lunar new year - chunjie or Spring Festival in China - is an event that still tugs the heartstrings of Chinese everywhere and is a celebration of thanksgiving.
In homes across China, Australia, the US, Singapore, Malaysia, Vietnam, Britain, the Philippines, Thailand and India, the Year of the Rabbit will be met with parties, feasts and firecrackers. China Daily took a whistle-stop tour to find out more.
Australia
The Year of the Rabbit will be welcomed with a bang and three weeks of celebrations across Australia, as the lunar new year holidays continue to grow in popularity, said Albert Yen, president of the Sydney See Yup Society, the country's oldest Chinese organization, dating back to the 1850s.
"New year is still very important to Chinese whether they were born here or moved here from China," he said. "I can't say how many people come to Sydney's Chinatown or Little Bourke Street in Melbourne, but over the years we've noticed more people are taking part."
Celebrations in Sydney will be "bigger and better" than last year, with lion dances, fireworks, dragon boat races and many other cultural events. In Melbourne, a giant lion made up of more than 200 people will parade through the streets. The cities boast Australia's largest Chinese communities.
"The celebrations remind Chinese of their heritage, and for the non-Chinese is a bridge towards better understanding," said Yen.
Vietnam
Nowhere in the world outside China is the lunar new year celebrated so widely as in Vietnam. Nothing captures the importance of the festival - known locally as Tet - more poetically than great-grandmother Nguyen Thi Ty's epic journey home.
The 70-year-old widow lives with one of her 10 children in the southern city of Vung Tao, but every year travels about 1,500 kilometers alone by bus, train and motorbike to her native village in Nam Dinh province. "Tet is the most important festival for honoring our ancestors," she said on Vietnam's Reunification Express train, three quarters of the way through her marathon 40-hour journey. "I never celebrate Tet anywhere but at home, and I never will."
Lunar new year festivities in Vietnam are similar to Spring Festival in China. Yet, this year there is one crucial difference: in Vietnam they will mark the Year of the Cat, the one animal that differs in the two countries' zodiacs.
The giving of "lucky money" to children and the elderly is also a tradition here. The most auspicious envelopes contain odd numbers of notes to symbolize long life and prosperity.
United Kingdom
Three performances of Peking opera, traditional Chinese songs and dance routines will usher in the new year, with galas scheduled in London's Trafalgar Square and Lyceum Theatre on Feb 6 and 7 respectively, and in Edinburgh on Feb 9. Joining the 40-artist Cultural China - Spring in One World troupe on stage will be Chinese soprano Song Zuying and tenor Yan Weiwen.
Celebrations for Spring Festival in the UK date back to 1980, with the first gala in Trafalgar Square held in 2002. Every year, the festivities include events in Leicester Square and Chinatown, which attract about 300,000 people, said Wu Guoqiang, chairman of the London Chinatown Chinese Association.
A series of activities have also been organized to commemorate the centenary of Cao Yu, the great Chinese playwright and a pioneer of modern Chinese drama in the early 20th century. A photographic exhibition and a film will debut at the Brunei Gallery in the school of Oriental and African Studies on Feb 10.
Malaysia
Food is a massive part of the lunar new year, but traditional reunion dinners are fast becoming a rare sight in homes, albeit for practical reasons.
Freddy Lee, a 30-year-old business development director, said his dinner will be at a restaurant to make the most of the time available to catch up with family. He returns to Kuala Lumpur, the nation's capital, from his home in Singapore every lunar new year.
"With my parents getting older, it makes sense not to spend too much time preparing a meal and spending more time talking," said Lee. "Things have definitely become more commercial and the spirit of the festival is also less important now. The real benefit is being able to see our loved ones."
However, he admitted he misses the lavish spread of home-cooked food of his childhood. "Perhaps when I have my own family, it will revert to the old times," he added.
For Malaysian Chinese, lunar new year has always been about spending time with family. "It's precisely the long duration away from home that for some workers in the city keeps the new year spirit alive," said retiree Edward Yong, 56. Like in China, Malaysians Chinese rush home, causing gridlock on highways out of the capital. It is also a peak time for bus and rail services.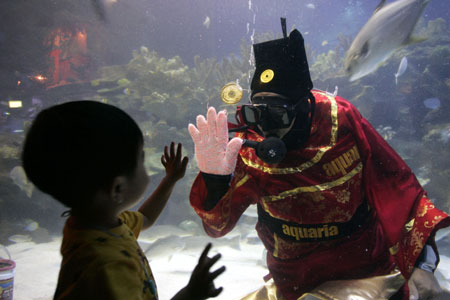 A diver dressed as the God of Prosperity gestures to a boy as part of upcoming Chinese new year celebrations at Aquaria KLCC underwater park in Kuala Lumpur, Malaysia, on Jan 24. [Photo/Agencies]