Editor's Note:
The second National Work Conference on "pairing assistance" projects to support Xinjiang development was held in Beijing from May 27 to 29. President Hu Jintao voiced his appreciation for the achievements made over the past year and urged government departments to concretely implement the central government's policies for Xinjiang's development.
Xinjiang, the border region of China, has witnessed fast development of local economy and improvement of the lives of people from many ethnic groups there. This year marks the first year of China's 12th Five-Year Plan, and also the first year of an all-round plan in assisting Xinjiang's development from the central government. Looking ahead, more work needs to be done and at the same time, the prospects are bright. 
 Looking into the future ...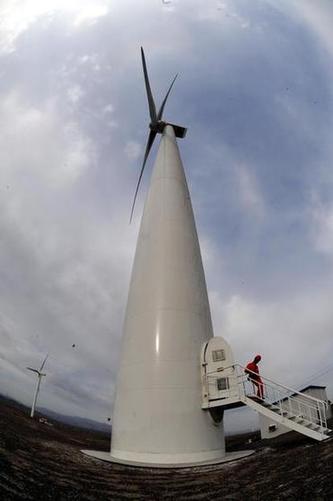 China vows to improve people's lives in Xinjiang
Senior leaders pledged to promote further development in Xinjiang Uygur autonomous region while making the improvement of the people's lives the first priority. >>>

 Xinjiang builds foundation for rapid development
The government of Northwest China's Xinjiang Uygur autonomous region has vowed to make more efforts to achieve rapid development and long-term stability during the 12th Five-Year Plan (2011-2015) period. >>>

 Xinjiang tourism recovers from 2009 riots
Xinjiang is poised to become a major tourist destination for Chinese and international sightseers. By the end of 2015, Xinjiang plans to host at least 80 million tourists annually. >>>

 Three goals for 'leapfrog development'
Xinjiang Production and Construction Corps (XPCC), also known as Bingtuan, is a unique economic and semi-military governmental organization in the Xinjiang Uygur autonomous region. It has vowed to realize "leapfrog development" in the 12th Five-Year Plan period (2011-2015) by pushing forward urban construction, industrial development and modern agriculture. >>>

 Xinjiang spends heavily on wind-power industry
Northwest China's Xinjiang Uygur autonomous region plans to spend 20 billion yuan ($3.04 billion) this year to boost its wind-power industry, including the establishment of the region's largest production base for wind-power turbines in Hami. >>>

 Latest batch of officials head to Xinjiang
More than 1,600 officials and experts from 19 provinces and municipalities have arrived to work in Northwest China's Xinjiang Uygur autonomous region in a partnership program to assist local development, authorities said on Wednesday. >>>
Changes in the making -- A safer place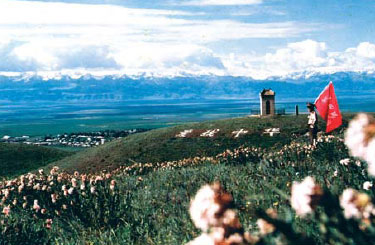 The Party chief of the Xinjiang Uygur autonomous region, who was appointed in April last year, said that administering the region was a difficult task for him because the regional government had to not only concentrate on economic development and people's livelihoods but also face grave challenges in maintaining social stability. >>>


 Safeguarding the frontier
The Xinjiang Production and Construction Corps (XPCC) performs two duties entrusted by the Central government since its establishment in 1954: farm reclamation and guarding China's frontiers. After the Central government unveiled its ambitious support package to Xinjiang in May 2010, the XPCC has quickened the process of urbanization in order to better protect the borders. >>>
 Changes in the making -- Better environment 
 Urumqi targets smog producers for clean air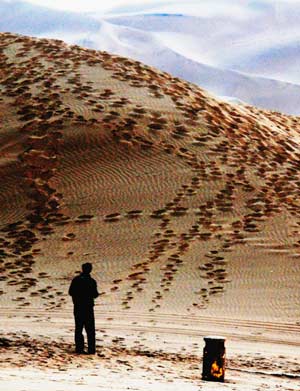 Urumqi, one of China's most polluted cities, plans to move dozens of factories from urban areas and tear down thousands of coal-burning boilers this year to clean its skies of their habitual winter smoke. >>>

 Fragile plateau to get extra protection
China has pledged to promote ecological preservation and environmental protection on the Qinghai-Tibet Plateau region, an area covering the Tibet autonomous region and Qinghai province, as well as parts of the Xinjiang Uygur autonomous region, Sichuan, Yunnan and Gansu provinces, for the next two decades. >>>

 1.7b yuan for combating desertification in Xinjiang
A program to fight against desertification around the Tarim Basin in Northwest China's Xinjiang Uygur autonomous region is set to begin within this year, covering a total area of 625,300 hectares. >>>

 Is water diversion project unrealistic?
On paper, Wang Xiushun's plan is simple: Build a pipeline that will carry millions of cubic meters of water from the coast to the drought-plagued northern regions. But the process of making it a reality is far more complex.
To get water from the Bohai Sea in the east to Xilinhot in the Inner Mongolia autonomous region, it will first need to be pumped 1,170 meters above sea level and then transferred 618 kilometers through mighty tunnels and glass fiber-reinforced pipes. >>>
 Changes in the making -- Better life

 Training program to boost employment in Xinjiang
A total of 22,000 jobless college graduates in Northwest China's Xinjiang Uygur autonomous region, mostly ethnic Uygurs, are slated to receive at least one year of job training free of charge in universities and companies in China's developed regions in the next two years. The autonomous region's government estimates the program will cost 850 million yuan ($130 million). >>> 

 Over 70 arrested for abducting Xinjiang children
More than 70 people suspected of abducting, coercing and organizing Xinjiang children to beg and steal have been apprehended throughout the country amid a national anti-abduction campaign. >>>
 In Focus -- Ethnic unity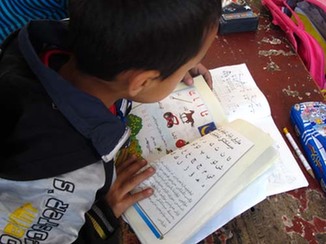 Ethinic unity - the source of happiness in Xinjiang
The Xinjiang government, in an April 2010 regulation, said that all new public servants need to be bilingual, so Han officials need to speak the language of another ethnic group, while officials of other ethnic groups need to know Mandarin. >>>
 Xinjiang to recruit 9,200 bilingual teachers
China's northwestern Xinjiang Uygur autonomous region will recruit around 9,200 bilingual primary and middle school teachers this year to promote bilingual education, local education authorities said. >>>