Bohai Sea-Xinjiang transfer plan offers hope for thirsty north, but pollution fears remain. Jiang Xueqing in Beijing and Shao Wei in Urumqi report.
On paper, Wang Xiushun's plan is simple: Build a pipeline that will carry millions of cubic meters of water from the coast to the drought-plagued northern regions.
The process of making it a reality is far more complex.
To get water from the Bohai Sea in the east to Xilinhot in the Inner Mongolia autonomous region, it will first need to be pumped 1,170 meters above sea level and then transferred 618 kilometers through mighty tunnels and glass fiber-reinforced pipes.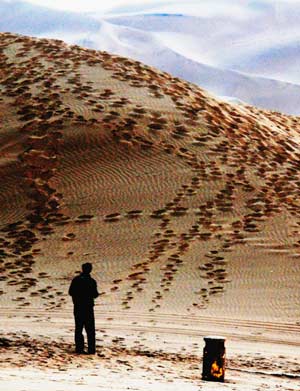 This undated photo shows the desert in Turpan, Xinjiang Uygur autonomous region. JIANG XIAOMING / FOR CHINA DAILY
The project, which was tabled in 2004, is one of several aimed at helping regional authorities develop a dynamic cyclical economy that includes coal, power and salt chemical industries.
In fact, Wang, chairman of the Xilin Gol Hongyuan Seawater Desalination Corp, has an even grander ambition. On the wall of his Beijing office is a map marked with a water transfer route that stretches all the way to the Xinjiang Uygur autonomous region.
According to a company insider familiar with the seawater diversion proposals, who did not want to be identified, the plan is to transfer 5 billion cubic meters of seawater to the Turpan-Hami basin, an area famous for its fruit and rich coal reserves.
By using the Inner Mongolia project as a test, engineers will look to expand the link west to Aydingkol Lake and Lop Nur Lake, applying the same technology and operation model.
With 139.6 billion tons of lignite reserves, officials in Xilinhot, capital of the Xilin Gol League (one of 12 county/prefectures-level divisions), want to turn the region into a national energy and chemical industry base.
Lignite is a low-quality coal used largely by power and coal chemical plants. However, both consume large amounts of water, which is a problem for an area that gets only 150 to 350 millimeters of rain every year. Almost all of its 1,363 lakes have already dried up.
The seawater transfer project offers the league's government a glimmer of hope.
"We thought about freshwater transfer at first but found it was unrealistic, as almost everywhere in North China suffers with water shortages," said Zhao Ping, deputy director of Xilin Gol's leading group to promote cyclical industrial projects. "In the end, we decided to transfer seawater from the Bohai Sea to avoid competing with other regions."
Starting in Huludao in Liaoning province, the proposed pipeline will pass through the cities of Chaoyang and Chifeng before reaching Xilinhot. It is expected to transport 365 million cubic meters of seawater a year to produce 310 million cu m of desalinated water and 11.2 million tons of variant salt chemical products.
Evidence in question
On Nov 5 this year, the ocean branch of the China High-tech Industrialization Association, of which Hongyuan is a member, jointly organized a forum in Urumqi, the capital of Xinjiang, with local authorities to promote the Bohai Sea-Lop Nur Lake transfer plan (a similar event was held in Beijing two years ago)
The forum received extensive coverage in the Chinese media. However, many are skeptical about whether such a project is feasible and are afraid it could lead to damaging pollution.
Experts dismissed the idea as "not based on solid scientific evidence".
"It sounds crazy to put seawater into Lop Nur Lake," said Yuan Guoying, director of the Ecological Society of Xinjiang. "The eco-environment in Xinjiang and (in areas) along the (proposed) pipeline will be destroyed."
Shi Yulin at the Chinese Academy of Engineering also warned that the salt in the transferred water will only worsen the region's problem with soil salinization.
In response, Zhang Baoyin, secretary-general of the association's ocean branch, insisted the current discussions are only at an academic level and that his department has carried out no on-site investigation or scientific research.
"The forum was to publicize the idea, so that the public and governments would pay attention. It was not to discuss real plans," he said, before adding that he believes further studies should be done to explore solutions to the possible pollution and salinization of soil.
As the project in Inner Mongolia is smaller in scale, it should be comparatively easy to get off the ground.