BRASILIA - Chinese President Hu Jintao and the leaders of Brazil, Russia and India met in Brasilia on Thursday to discuss the world economic and financial situation and other important global issues.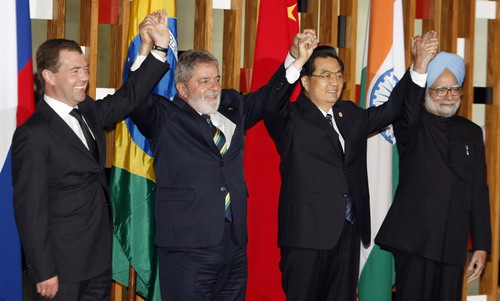 (From L to R) Russia's President Dimitry Medvedev, Brazil's President Luiz Inacio Lula da Silva, China's President Hu Jintao and India's Prime Minister Manmohan Singh gesture during a photocall at the Itamaraty Palace in Brasilia April 15, 2010. [Agencies]
This was the second time the four leaders met formally for a summit.
Special Coverage:


Hu's visit to the Americas
Related readings:


 Hu signs agreement with Lula


 Hu meets with Medvedev on bilateral relations


 BRIC has growing world influence


 President holds talks with Indian leader


 Hu meets with Singh, stresses border issue, cooperation
The first summit of Brazil, Russia, India and China, collectively known under their acronym BRIC, convened in Yekaterinburg, Russia, last year.
At the Brasilia summit, leaders of the four countries were to exchange views on major global issues, such as the world economy and financial situation, reform of the international financial system, climate change and cooperation among the four countries, Chinese diplomats said.
China hopes the summit participants could discuss global issues in the spirit of mutual benefit, so as to facilitate the recovery of the world economy, safeguard the four nations' common interests and advance their cooperation, Qin Gang, a Chinese foreign ministry spokesman, said at a regular press briefing on April 1.
He said that China always adopted a "positive, pragmatic, open and transparent" attitude toward cooperation with other BRIC nations.
Closer cooperation and exchanges among the four nations would be conducive to increasing the influence of emerging and developing countries, and promoting the development of multilateralism, he said.
As major emerging markets, the BRIC countries account for 42 percent of the world's population and 15 percent of the world's GDP. The BRIC countries have become an important force in the international community, receiving worldwide attention.
"The BRIC countries are at a similar level and stage of economic development and their positions on major international issues are close," said Chinese Foreign Minister Yang Jiechi at a press conference on March 7.
"In the face of increasing global challenges, the BRIC countries have enhanced cooperation among themselves and with other countries in the world in an active, pragmatic, open and transparent manner. I believe that is in the interests of the whole world," he said.
At the first BRIC summit in Yekaterinburg, leaders of the four nations discussed the global financial crisis, the reform of the world's financial institutions, and also prospects for further strengthening collaboration within the BRIC.
At the end of the Brasilia summit, a joint statement is expected to be issued.