New deal strengthens ties; focus on oil and new energy
BRASILIA, Brazil - China and Brazil signed an agreement on Thursday, but the Chinese Foreign Ministry had released no details by China Daily's press time.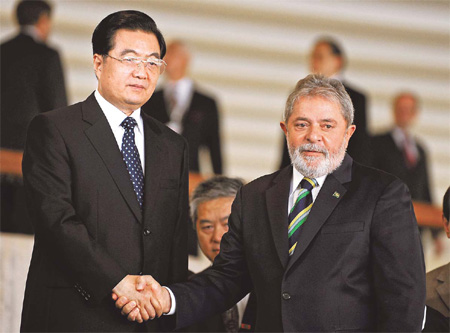 President Hu Jintao and Brazilian President Luiz Inacio Lula da Silva prior to a meeting at the Itamaraty Palace in Brasilia on Thursday. [Agencies]
President Hu Jintao and his Brazilian counterpart Luiz Inacio Lula da Silva signed the agreement after an hour-long closed -door meeting before the second BRIC summit, which also includes leaders from India and Russia.
On his arrival in Brasilia late on Wednesday, President Hu said he wanted to use the visit to strengthen political trust, broaden cooperation, and push forward the strategic partnership between the two countries to a new level.
Special coverage:


 Hu's visit to the Americas
Related readings:


 Bright prospects for BRIC


 US-China relations warm as Obama and Hu Jintao meet


 BRIC stacks up against the IMF


 Hu urges action to enhance nuclear security


 Hu's visit to boost relations


 Hu: China, US share common goal on Iran
A Chinese Foreign Ministry source said the agreement was essentially a five-year plan outlining strategic cooperation between the two major developing countries.
It is also widely speculated what deals would be reached after Thursday's meeting between the two leaders.
During his visit President Hu was also due to discuss with Lula China's bid to build a bullet-train system in Brazil according to the daily O Estado de Sao Paulo.
The $19.6 billion project to link the cities of Rio de Janeiro, Sao Paulo and Campinas is seen as a priority among Chinese government representatives, O Estado said, citing Rodrigo Maciel, a partner at Strategus Consult.
The paper also reported Lula will reinforce Brazil's interest in maintaining Empresa Brasileira de Aeronautica, known as Embraer, operations in China.
Embraer, as the world's fourth-largest aircraft maker, is due to exit China in 2011 if a renewal agreement is not achieved.
Others suggest that the two countries may have agreed an oil cooperation deal.
President Hu also suggested both countries would broaden cooperation in the energy sector, particularly oil exploration.
Sun Hongbo, an expert on Latin American studies at Chinese Academy of Social Sciences, suggested both countries may also cooperate in oil projects and new energy sectors.
"China's rich experience, advanced equipment and technology (in oil exploration), relatively lower prices, and its strategic partnership with Brazil are all advantages attracting Brasilia to turn to Beijing," Sun said.
However, Sun warned conflicts between Brazil's different interest groups might be a potential problem.
"While some groups benefit (from deals with China), others may not. That may cause problems between them, and the Brazilian government will need to deal with this problem, which may affect bilateral ties."
CHINA DAILY