Ghouls? Who needs ghouls at Halloween when there are so many other exciting visitors from outer space lining up to meet us. Zhang Zixuan and Erik Nilsson search out the fortunate few who say they have had close, sometimes intimate, encounters with extraterrestrials.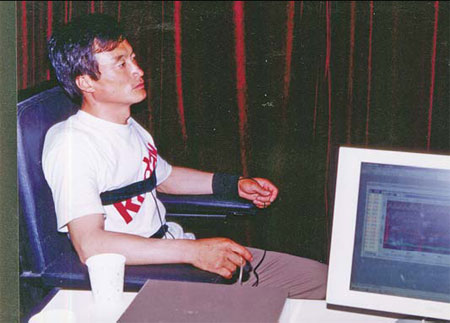 Heilongjiang farmer Meng Zhaoguo is convinced he had an intimate encounter with an alien seductress who told him their offspring will appear 60 years later. Provided to China Daily
She was 3 meters tall, and had 12 fingers and braided leg hair - and she wanted to make love with him, Meng Zhaoguo says. So the farmer from Heilong- jiang and the robust extra-terrestrial seductress had intimate moments - while levitating - for about 40 minutes, claims Meng, who is the protagonist of what is perhaps China's best-known alien abduction report.
Meng says he was working outside in Heilongjiang's Wuchang in 1994, when he saw a metallic shimmering on a mountainside. He went to investigate, believing it was likely a downed helicopter, when he blacked out.
Related readings:

 Expert predicts possible UFO appearance


 Alien workers are 'rent payers'


 Stay home ET. UK scientist: Aliens may pose risks


 Alien life could already be on Earth
When he came to, he was confused and unable to communicate with other people. He had also developed an extreme fear of anything made of iron.
Later that night, the female humanoid visited him, he says.
"I didn't believe in aliens before I actually met them," he tells China Daily. "Seeing is believing. We cannot explain UFOs and aliens because our technology isn't advanced enough. But that doesn't mean such things don't exist."
Meng's account is met with both skepticism and belief - not only by the general public, but also the country's growing community of ufologists, who study reports of unidentified flying objects (UFOs).
Chinese interest in, and sightings of, UFOs have been increasing, especially since one shut down Xiaoshan Airport in Zhejiang's provincial capital Hangzhou for about an hour on June 7, making world headlines.
The hovering object affected 18 flights and about 2,000 passengers.
There have been eight more mass sightings since, with the latest shutting down the airport in the Inner Mongolia autonomous region's Baotou city for about an hour on Sept 11, ABC News reported.
Unexplained sightings reported to the Beijing UFO Research Organization (BURO) have increased from about 100 in 2008 to more than 200 this year, says the organization's Secretary-General Zhou Xiaoqiang, who was also part of the Xiaoshan Airport investigation team.
"As material and cultural life improves in China, more people are able to use cameras to photograph and film the strange things they see," the 62-year-old says. "Also, media broadcasts are making the UFO a more popular concept in China, and the Internet makes it easier to file reports."
Zhou points out that sightings spike around festivals.
"That's because fireworks, lanterns, kites are everywhere. For example, a flashing triangular UFO could be a kite with lights," Zhou explains.
Zhou puts the chances that UFOs carry extraterrestrial visitors at "zero" and says there have been less than 10 abduction reports in the country.
Wang Sichao, a research fellow at the Chinese Academy of Sciences' Purple Mountain Observatory in Jiangsu's provincial capital Nanjing, says China's UFO reports are "more credible" than those in other countries. And there are fewer abduction reports.
"The aliens that are reported here are all different. Some are humanoid, some have large heads and eyes, some conduct sexual experiments, some speak Chinese and others use a kind of universal language.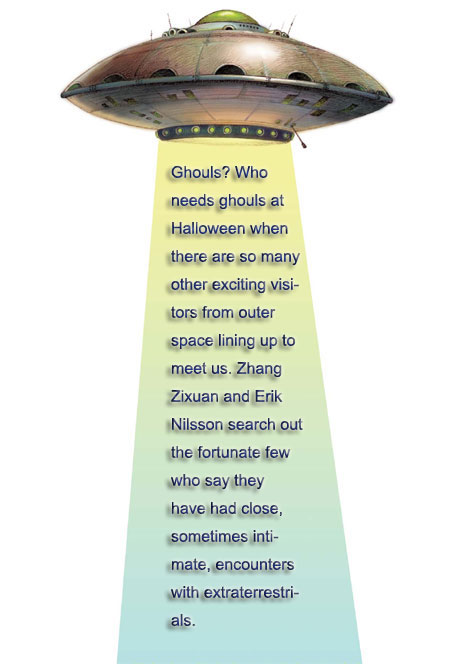 But the one thing all these claims have in common is a lack of solid evidence."
Meng describes the extraterrestrials he says he met - he had a second encounter with others after he met the female - as speaking Chinese.
"The aliens showed me a piece of crystal, through which I saw forests, icebergs and fossil fuels on the Earth," he says. "They told me about the current situation facing Earth's resources and warned me about the importance of environmental protection."
But that's not all they told him, he says.
"They said that 60 years from then, there will be an alien born with the genes of an earthling farmer, and I can meet him or her," he says, referring to the offspring he says he sired with the extraterrestrial female.
While many within China's ufology community are skeptical of abduction reports such as Meng's, International Chinese UFO Association sighting investigation department head Zhang Jingping believes people should remain open-minded.
"We have invented aircraft, and we have landed on the moon. Why is it impossible that aliens are visiting us?" says the 42-year-old. Zhang has led research on Meng's case, including arranging for police to administer a lie detector test, which he says Meng passed.
Wang says China has about 60 researchers and 10 NGOs involved in serious UFO studies. The country's ufology community was put on the map in 2005, when Liaoning province's Dalian city was selected as the World UFO Conference site.
American nuclear physicist Stanton Friedman, who worked on classified government projects for 14 years and is perhaps the world's most celebrated ufologist, told China Daily at the conference that, "ufology is blossoming in China".
He has since been "impressed" by the serious discussions in the country's press, he says.
"China's space program is moving rapidly, and so is its serious discussion of UFOs," he says.
"I am indeed optimistic that Chinese researchers will be making more contributions to our knowledge of this very important phenomenon - visits to Planet Earth by intelligently controlled alien spacecraft."
Be they unexplained natural phenomenon or the cruisers of universe-trotting ETs - or something else entirely - UFOs are unlikely to stop appearing over China anytime soon.
And when they do appear, there will be a growing number of Chinese with their eyes on the skies.