BEIJING - Chinese Vice President Xi Jinping arrived on Monday in the Bangladeshi capital of Dhaka for a two-day official visit, the first leg of his four-nation tour from June 14 to June 24.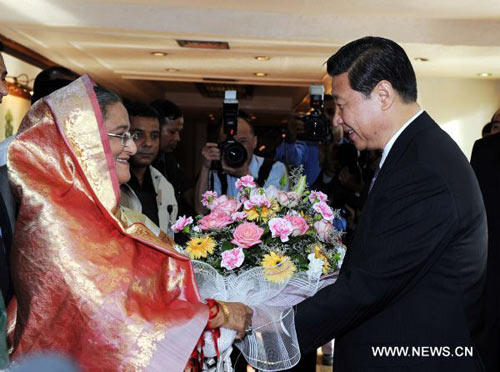 Chinese Vice President Xi Jinping (2nd R) meets with Bangladeshi Prime Minister Sheikh Hasina (2nd L) in Dhaka, capital of Bangladesh, on June 14, 2010. [Xinhua]
In a written speech delivered at the airport upon arrival, Xi said he expects to "take this opportunity to pay tribute and extend my best wishes to the Bangladeshi government and people."
"China and Bangladesh are close and friendly neighbors," said the vice president, adding that the China-Bangladesh friendly relationship and cooperation have enjoyed continuous growth over the 35 years since the establishment of diplomatic ties.
"The two sides are now working to build a closer comprehensive partnership of cooperation. A new starting point brings new development opportunities to the bilateral relationship," he said.
Related readings:


 Chinese vice president arrives in Bangladesh for official visit


 Chinese vice president starts visit to four nations


 Chinese vice president to visit four nations

In retrospect, China and Bangladesh decided in March this year to establish and develop a closer comprehensive cooperative partnership, which is of vital significance to the expansion of the overall China-Bangladesh relationship.
During his meeting with Bangladeshi Prime Minister Sheikh Hasina Wajed on Monday, Xi put forward a four-point proposal on lifting the bilateral relationship to a higher level, according to a press release issued by the Chinese delegation.
The proposals include keeping frequent high-level exchanges, expanding economic cooperation, exploring more fields for cooperation and strengthening cultural exchanges.
Xi said the Chinese side is willing to join hands with the Bangladeshi side to expand bilateral trade and resolve the problem of trade imbalance.
He also said the Chinese government will continue to provide Bangladesh with adequate assistance, encouraging more Chinese enterprises to invest in Bangladesh.
On international and regional issues, Xi said the Chinese side is willing to cooperate with Bangladesh on regional cooperation, climate change, energy security and safeguarding the key interests of developing countries.
Hasina, on her part, said Bangladesh attaches great importance to the bilateral relations, extending her appreciation for China's assistance to Bangladesh in boosting social and economic development.
She also said her government will strengthen cooperation with China on a wide range of fields so as to boost the progress of bilateral relationship.
Xi also met with representatives of the Bangladesh-China People's Friendship Association (BCPFA) and other friendship organizations here on Monday.