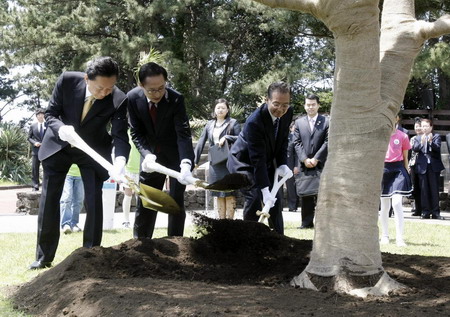 Chinese Premier Wen Jiabao (centre R), South Korean President Lee Myung-bak (C) and Japanese Prime Minister Yukio Hatoyama plant a tree in Seogwipo on Jeju island May 30, 2010. [Agencies]
JEJU, South Korea -- Chinese Premier Wen Jiabao on Sunday called for further efforts to establish the mechanism and framework of cooperation among China, Japan and South Korea in line with a blueprint mapping out cooperation in the region over the next decade.
He made the call at a trilateral summit on South Korea's southern resort island of Jeju also attended by South Korean President Lee Myung-bak and Japanese Prime Minister Yukio Hatoyama.
The Chinese premier said the three countries should take into account one another's major concerns and properly handle sensitive issues so as to enhance political mutual trust and maintain peace and stability in the region.
Full Coverage:


Wen's Four-Nation Tour
Related readings:


 Wen proposes on economic co-op with ROK, Japan


 Wen calls for defusing tensions over ROK warship sinking

 Wen makes proposal on China-S Korea ties


 Premier Wen visits Chinese Culture Center in Seoul


 Wen's visit to further boost ties with Japan
This, he stressed, constituted the most important basis for deepening trilateral cooperation.
He noted that in tackling global financial crisis, the three countries have maintained close communication and coordination in their joint efforts to oppose trade protectionism, deepening and broadening cooperation in all fields, thus achieving economic revival and growth in bilateral trade.
The premier called for greater input by the three countries to consolidate the economic recovery while continuing to implement appropriate policies. Meanwhile, they should adopt a long-term approach to the steady recovery and future growth of region's economy, and work together to create a favorable condition for this end, Wen said.
He urged the three countries to encourage joint researches by officials, businessmen and scholars on a free trade area, strive to reach a trilateral investment agreement at an early date, and enhance cooperation on standardization and establishment of a secretariat for trilateral cooperation.
While serving as major manufacturing and trade powers, the three countries should push for sustainable development, Wen said. They should accelerate their economic restructuring and the transformation of pattern of economic growth by vigorously developing green economy, recycle economy and conducting scientific and technological innovation, he added.
The premier also called for greater efforts to promote cultural and people-to-people exchanges among the three countries. They should join hands to promote the ideas of friendship, tolerance and harmony, broaden the exchange and cooperation in culture, education, tourism, media and encourage friendly exchanges among different cities so that cooperation among the three countries will enjoy broader and more solid popular support.
Wen said that as both neighbors and regional powers, the three East Asian nations should treat each other with respect and on an equal footing to achieve a win-win result. He expressed the confidence that as long as the three nations work together for their common goal, their future will be bright indeed.