JEJU, South Korea - Chinese Premier Wen Jiabao Sunday called on South Korea and Japan to make further efforts to enhance cooperation and economic integration among the three Asian nations.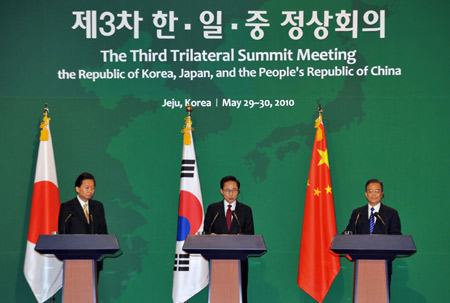 South Korea's President Lee Myung-Bak (C) speaks as Japan's Prime Minister Yukio Hatoyama (L) and Chinese Premier Wen Jiabao listen during a joint news conference following trilateral summit meetings in Seogwipo on Jeju island, south of Seoul, May 30, 2010.  [Photo/Agencies]
Addressing the Second China-Japan-South Korea business luncheon in this southern South Korean resort island, Wen said that only by deepening their mutually beneficial cooperation can the three countries promote their own development, foster regional stability and prosperity, and shore up the overall recovery of the global economy.
Wen spoke highly of the three countries' performance during the global financial crisis and called for strengthened efforts to better meet the new challenges and opportunities facing the world economy in the post-crisis era.
He made a four-point proposal on how to deepen regional economic cooperation.
Special coverage:

Wen's Four-Nation Tour



Related readings:

 Backgrounder: Trilateral meetings of leaders of China, Japan, South Korea


 Wen heads to ROK for trilateral leaders' meeting


 Trilateral talks to outline future co-op in East Asia


 China, S Korea, Japan to launch joint study on trilateral free trade deal

First, to jointly expand regional trade. The three countries should fervently study the feasibility of establishing a trilateral free trade zone and make sure to finish this important job by 2012. They should also strengthen cooperation in such sectors as logistics operations, customs service, quality inspection and others, actively push ahead the WTO Doha negotiations and firmly oppose any form of protectionism.
Second, to jointly create a sound investment environment. In their ongoing negotiations for a joint investment agreement, the three countries should give due consideration to each other's concerns and interests and also be flexible so as to achieve a balanced, pragmatic and win-win result for all.
Third, to jointly explore models of sustainable development. The three countries should strengthen all-around cooperation in the development of new technologies designed to lower energy consumption and boost energy efficiency.
Fourth, to jointly safeguard regional financial stability. Top priorities for now are to implement and improve the Chiang Mai multilateral mechanism and to actively push ahead the efforts to develop the Asian bond market.
Wen is in South Korea on a three-day visit, during which he also attended an annual trilateral summit with South Korean President Lee Myung-bak and Japanese Prime Minister Yukio Hatoyama.