The annual summit of China Green Companies (CGC) 2010, jointly organized by China Entrepreneur Club and Chengdu city government, will be held from April 22 to 23 in Chengdu.
Over 600 representatives from government, business, academia and non-governmental organizations including the UN Under-Secretary-General and UNEP Executive Director Achim Steiner, President of China Enterprise Confederation Wang Zhongyu, Lenovo President Liu Chuanzhi, former Chinese Ambassador to France Wu Jianmin, Alibaba CEO Ma Yun, Chengdu Party Secretary Li Chuncheng and Chengdu Mayor Ge Honglin, are expected to attend.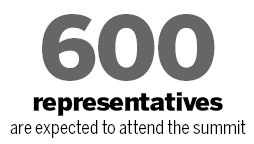 China Daily is authorized by the organizers as the officila English newspaper to cover the event.
There will be forums focusing on effective cooperation between enterprises and government, creating a green economy and sustainable development.
All parties will explore ways in which green ambitions can actually be made a reality, by infusing business practices with environmental values.
Many views
The first annual summit was in 2008, and was established by the China Entrepreneur Club as the first cross-industry summit in China focusing on social and environmental values in business.
It has brought together more than 1,000 attendees since its inception.
The past two summits received support from the UN Secretary-General Ban Ki-moon, founder and executive chairman of the World Economic Forum Klaus Schwab, former UK Prime Minister Tony Blair, and Governor of California Arnold Schwarzenegger.
On December 18, 2009, at the Copenhagen Climate Summit, the Chinese government set its target for cutting carbon dioxide emissions per unit of gross domestic product by 40 to 45 percent by 2020 based on the 2005 level.
China has said that the target will be incorporated into the country's mid and long-term plans for economic and social development, and that implementation will be subject to supervision by the law and the public.
Such a monumental task requires cooperation between, and consistent efforts from, the government, entrepreneurs and the public.
The summit aims to gather influential and insightful leaders from around the world to discuss environmental concerns relating to a range of topics, from tax and finance to technology and real estate.
The goal is to strengthen communication between governments and enterprises, to facilitate cooperation between foreign and domestic firms and to discover and promote an environmentally friendly path for China and the rest of the world.
Main activities
Underlying material operations in the modern world, there are value judgments that need to be made, which influence the way we operate and the attitude we adopt towards our environment.
At the summit everyone will be encouraged to put forward their points of view on what green values are.
China's top 100 green companies will be unveiled during the meeting. They will be awarded for their achievements in sustainable competitiveness. An accompanying report will also be released. These companies will be examples that other businesses can learn from.
Following on the success of last year's campaign against trade in shark's fins, this year's public campaign will be called "Greening Our Homeland".
With guidance from environmentalists, the public will be encouraged to offset their carbon dioxide emissions and to combat climate change by planting trees.
Forums will be interactive and foster an open atmosphere in which people can share their passionate views. Speakers and participants will have more chance to interact intensively in meaningful and thought-provoking dialogues.
For all the latest information about the event, please visit the official website: www.2010.daonong.com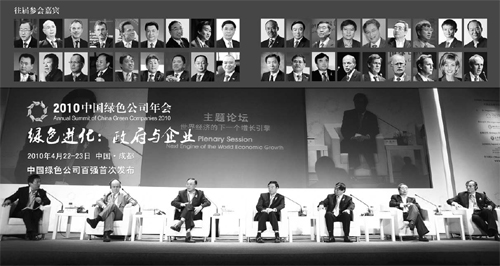 From top left: UN Secretary-General Ban Ki-moon, founder and executive chairman of the World Economic Forum, Klaus Schwab and other important fi gures have lent support to the CGC summit.