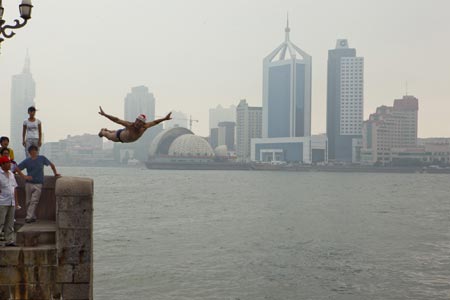 A swimmer dives into Jiaozhou Bay in Qingdao. Property developers are already moving into second-tier cities such as this to take advantage of ample land supplies. [Agencies]
Ample land supply means builders could generate higher returns
BEIJING - Some of China's second-tier and third-tier cities may generate higher returns given the excessively high level of house prices in the nation's biggest cities, according to a real estate research report.
The report was released by Syswinland Consulting, a Beijing-based firm specializing in land development and investment.
Gao Zhiguo, a senior researcher with Syswinland, noted that it has become increasingly difficult for land developers to launch new projects in the first-tier cities, such as Beijing and Shanghai, because local land supply is about to reach its limit.
In contrast, there is greater potential in smaller cities because their land supply remains abundant.
According to data for the first half of 2009, the average gross domestic product (GDP) growth of China's second-tier cities was between 10 and 15 percent year-on-year, higher than the first-tier cities, whose record was no more than 10 percent.
Based on national economic policies, and regional and industrial advantages, 20 second-tier cities have been selected by Syswinland as the rising stars in attracting land developers and housing investors. They are the trend leaders in the second stage of China's urbanization, Gao said. [20 new urban rising stars]
In the first phase, city building was concentrated on just a few large cities, such as Beijing and Shanghai, and their suburban districts. Now the country is entering the second phase, when development will spread to smaller cities.
Among the smaller cities, the rising stars are largely divided into two types including, first, those connected with large business centers by convenient communication and transportation links, and second, regional industrial centers in western China.
The 20 cities are leaders of either trend, among them 13 are cities in eastern China, near the Bohai Bay, Yangtze River Delta, and Pearl River Delta, and are all well linked to existing nearby business hubs. The other seven are regional industrial centers, such as Wuhan, Chengdu, and Hohhot. [20 new urban rising stars]
Having accumulated great economic power and exceeded $3,000 in per capita GDP, these cities are expected to witness a real estate boom as other cities around the world did when their per capita GDP climbed to the same level.
This is a great opportunity, Gao said. In order to seize this chance, some developers have already moved their projects to smaller cities. Evergrande Real Estate Group reportedly has development projects in 27 second- and third-tier cities, and reaped 90 percent of its sales from those cities in the first quarter of 2010.
Related readings:


 20 new urban rising stars


 Real estate market 'overheating'


 China real estate bazaar drowns out govt warnings


 Real estate broker enjoying the ride


 CNPC says to pull out of profitable real estate business
Of all the advantages that those "rising star" cities can have, policy incentives from the central government are the most important, such as national programs to boost development in the old industrial region in Northeast China and in western regions.
But in the long run, the ultimate driving force for the property market is local industrial development. Although Shenyang and Changchun, two northeastern cities, saw a decline in their property markets in 2009, Gao still believes that with the recovery, the two cities will see growth this year.
One noticeable case among Gao's rising stars is Hohhot, capital of Inner Mongolia autonomous region, and a trade link between China and the Republic of Mongolia and Russia. In 2009, in terms of growth potential, the city was rated No. 1 in China's central and western regions by the Chinese Academy of Social Sciences. The city also has a rich supply of land for future development.