Surging market pushes up housing prices as well as realtor's income
BEIJING - Leng Hongli is riding high on the real estate express.
Boosted by soaring housing prices, 30-year-old Leng earned 100,000 yuan ($14,700) in commissions last month after selling seven apartments in Beijing's Wangjing area.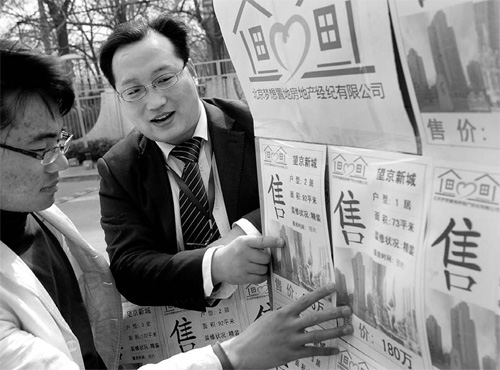 Leng Hongli(R), a real estate agent in the Wangjing area of Beijing, introduces houses on sale to a customer on Wednesday. [China Daily] 
"In the early years after I started working as a real estate agent in 2004, it was mainly about constantly worn out shoes and a hoarse voice. Now it's twisting your mind and going bald," he said.
Leng, who comes from a small village in Shandong province and only finished high school, said his March earnings were the highest amount he had fetched in a single month.
"I'm proud of myself, as so many university graduates can't even land a job today," said the spectacled man wearing a suit, a tie and a practiced smile.
"The ornamental glasses make me look knowledgeable and trustworthy."
Inside, though, he is worried.
Related readings:


 Collapse predicted, welcomed as housing prices continue to skyrocket


 Housing prices increased by 25 percent: report


 End of housing bubble?


 Expert: Housing prices likely stable this year

"The housing prices and the market here have gone crazy, which makes people buy out of panic regardless of the price," he noted.
"It can't last long and might jeopardize my rice bowl in the long run," said Leng, who expects his income to plummet this month.
His concern was well-grounded as his newly-started housing brokerage company with seven employees, mostly college graduates in their early 20s, only sealed one deal after March 15, when a plot in the Wangjing area was bought by a State-owned developer at a record-high price.
Expecting further rises in prices because of a new subway line in Wangjing to be completed by year end, a lot of owners have chosen to delay selling their properties.
"With few apartments available for sale, we small companies get no income and face possible closure if the situation continues," complained Leng.
Each employee in his company has previously led expectant buyers to see apartments at least four times a day. Now it's less than two.
Given a sellers' market and sharply shrinking sources, competition has become fiercer.
When a contract is about to be signed, competitors sometimes call in offering the owner a higher price and steal our business, he said, adding that fatter profits usually overwhelm honesty and trust.
Between 2004 and 2006, secondhand housing prices rose 1,000-1,500 yuan a year in Wangjing and he earned a relatively stable income of around 5,000 yuan a month.
Starting in 2007, prices began to rise like a rollercoaster, and so did his earnings.
"In 2007 alone, the average property price here increased nearly 100 percent to 14,000 yuan per square meter and I saw a speculator buy whole block of 12 apartments at one time," he said.
Confronted with the international economic meltdown and several interest rate hikes in the country, the average housing price in Wangjing declined to about 8,000 yuan per square meter by the end of 2008, official statistics showed.
In that year, "for three months in row, I had no income," he said.
Then by the end of 2009, the average housing price in Wangjing reached nearly 20,000 yuan per square meter, he noted.
"In my six years in the business, I saw the housing price here rise by at least 400 percent, but more people are coming to buy," he said, adding that after witnessing the process he would never think of buying a home here.
Instead he had a two-story building built in his home village last year.
Leng spends a lot of time every day learning economics, finance and even stocks.
"Newcomers with higher educations are swarming into the business. I have to learn more to survive," he said.
His faith in the business has never changed, as he now understands that the real estate sector is related to more than 50 other industries, and therefore the government will not dare burst the bubble before providing substitute economy stimulus, he said.
"Quick money is usually unsustainable. I don't think the housing price will drop dramatically but I prefer a gradual and healthy rise to sustain my job," he said.
China Daily