People are reluctant to let go of traditional ways of resting in peace
BEIJING - As China embraces the 21st century, the country still faces hurdles promoting more environmentally-friendly types of funeral and interment like cremation, sea burial and tree burial.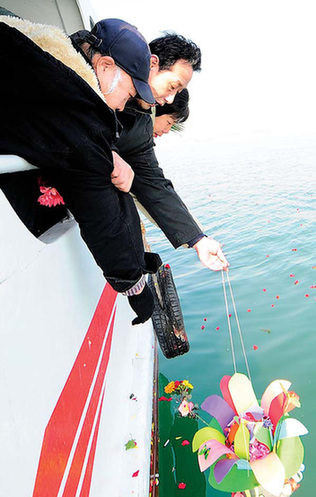 A sea burial is held in Dalian, Liaoning province, on Sunday. [Xinhua] 
"The government has been promoting new types of green burial for years, which can help avoid the waste of social and natural resources," Li Bo, deputy director of the social affairs department of the Ministry of Civil Affairs (MCA), said at a meeting on Wednesday where he issued the country's first green book on funeral development.
"The traditional concept that the deceased can rest in peace only by inhumation is the most difficult aspect in the promotion of green burials, which have already become a trend globally," he said.
The green book was released just days before the Qingming Festival, or Tomb Sweeping Festival, a traditional occasion for commemorating the dead in China, which falls on April 5 this year.
Cremation, which has been encouraged since the 1950s, currently accounts for nearly half of the interments in China, according to the green book.
Last December, the MCA released a guideline on the further reform of domestic funeral and interment services, urging local civil affairs departments to draft preferential policies for promoting environmentally-friendly types of burial.
In 2008, Beijing began to offer a free service to local residents who wish to bury their deceased family members at sea in a bid to ease pressure on cemeteries.
A total of 481 families in the capital chose burials at sea in 2009, more than doubling the number in 2008, according to the Beijing civil affairs bureau.
However, sea burials are still not as popular as they should be among Beijingers, said Jiang Xiaogang, secretary-general of the Beijing Funeral Association.
According to Jiang, burials at sea became an option in the capital in 1994, but so far only around 6,000 have taken place.
Related readings:


 Government to promote burial at sea


 80,000 sea burials in Liaoning since 1997


 More families choose sea burials

"Although we don't have relevant figures reflecting the overall situation on the new types of burial in the country, evidence shows they are not very popular among residents," Li said.
As of last September, authorities had shut down 175 illegal cemeteries across the country and rectified the improper operations of more than 1,400 cemeteries, which involved illegal marketing and building cemeteries that occupied land resources, the green book showed.
"In contrast to the situation in China, the green concept of interment prevails in countries like Australia and New Zealand, where some gravestones are only of name card size. This type of funeral suits China because of the country's scarce land and huge population," Zhu Yong, deputy director of a research institute under the MCA and chief editor of the green book, told China Daily on Wednesday.
He suggested more favorable policies and technical standards should be formulated to promote the new types of burial.
"Authorities should invest more in scientific research of the new types of burial, while ensuring they are affordable," said Gong Sen, a public policies researcher at the Development Research Center of the State Council.
On Wednesday, the China Funeral Association also posted www.tsingming.com, an information portal for the country's funeral and interment services.
The site enables families and friends of the deceased to commemorate their departure online by posting a portrait and eulogy, which is an environmentally-friendly option, said Wang Yuan, a member of the website's staff.
Traditionally, on the annual Qingming Festival Chinese burn incense sticks and imitation paper money, as well as offer sacrifices to the deceased along with sweeping their tombs.
According to the MCA, during last year's festival about 400 million Chinese visited cemeteries to commemorate deceased family members, 100 million more than in 2008. Zhu estimated this year's figure would at least equal that of last year.