BEIJING - A senior drought relief official has warned of mounting challenges in providing drinking water for millions of people if the worst drought to hit the southwest in nearly a century persists.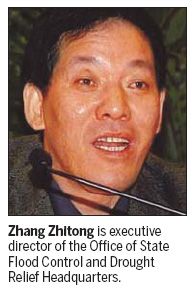 Each of the nearly 18 million people in the five worst-hit provinces is being supplied with drinking water and 20 liters of water for other use per day, said Zhang Zhitong, executive director of the Office of State Flood Control and Drought Relief Headquarters.
However, he warned of the possibility of no rain in mid-May - the rainy season in Southwest China - when all the stored water would run out.
"In the worst-case scenario, there would be no water supply. A dry spell will also emerge in North China, where spring drought occurs in nine out of every 10 years," Zhang told China Daily.
"The top priority has been given to solving the unprecedented shortage of drinking water in the drought-hit regions," Zhang said.
He said his office has sent 33 teams of officials and experts to the southwest for water exploration. Military personnel have also been deployed to transport water from Zhejiang to Guizhou and Yunnan, according to China Central Television.
Related readings:


 Drought in China caused by climate change: experts


 Cloud seeding brings rainfall to drought-hit Yunnan


 China to drill more wells as drought persists


 Drought may force villagers to leave homes

The Ministry of Land and Resources said in a Saturday statement that it will send more than 1,100 engineers and workers from across the country to drill over 1,600 wells.
The wells will provide 200,000 cubic meters of drinking water per day for 2 million people and 1 million head of livestock. About 1,400 will be dug by mid-May.
So far, the water resources ministry has dug over 100 wells, which provide drinking water for more than 100,000 people.
According to Zhang, the central government has so far earmarked at least 600 million yuan for drought relief from its special budget.
Xinhua contributed to the story.